Market Share Projection Tips for Small Businesses
by Danna Huertas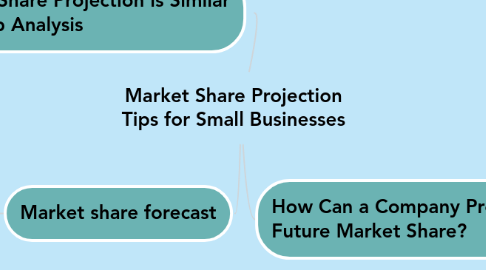 1. How Can a Company Project its Future Market Share?
1.1. Does the small business have a cost advantage it could use to steal more business?
1.2. Doe the small business currently have contractual agreements on supply with customers and are those customers looking to increase their consumption?
1.3. Can the small business capitalize on any errors made by its competition?
1.4. Does the small business have a new product and have customers indicated they'll move forward with orders?
1.5. Has the small business improved its marketing approaches and seen better, more qualified sales leads?
1.6.  Does the small business have a technological advantage, or even a cost-peruse benefit to its products, that they could leverage to secure more sales?
2. Market Share Projection is Similar to a Gap Analysis
2.1. 1. Determine Market Size: Calculate potential consumption within the market
2.2. 2. Determine Current Business Relative to Potential Business: It's a matter of understanding how much customers could actually buy within a year
2.3. 3. Determine Current Market Share: It consists of dividing the current business by the total by the total size of the market
3. Market share forecast
3.1. How does a company determine its current market share and project its future market?