Creative gifts you should give to your sister on this raksha bandhan
by The shop circuit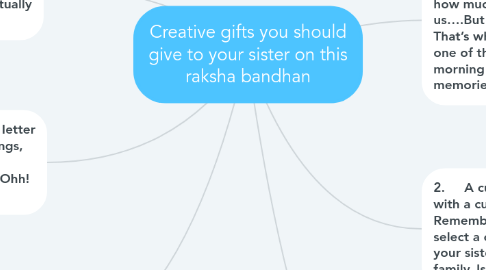 1. 1. A mug that says "I LOVE YOU". Let's just face it…Yes, we love our sister. Doesn't matter how much they annoy us, irritate us….But we still love our sister. That's why "I Love you" Mug is one of the best choice. Every morning coffee will bring some memories of childhood.
2. 2. A customized photo frame with a cute picture of childhood. Remember that family vacation, select a cute photo of you and your sister or….. of your whole family. Isn't it lovely?
3. Also, The Shop Circuit has the most exciting range named as gifts for her. You can visit and check it out. No matter how hard you try, sisters are the friends you can never get rid of. And that's the best part about them. This raksha bandhan, spend sometime with her. Express your love and gratitude and say, "If you trip and fall in life, I will be there to help you up - after I quit laughing." xD
4. 3. What is more sweeter than the box of sweets? Give her a box of her favorite sweet and let her know how sweet you actually are. ;)
5. 4. A simple and beautiful letter to her expressing your feelings, discussing a funny or sweet scenario of your childhood. Ohh! I bet you are crying.
6. 5. Most importantly, give her your words. Words of assurance…. you will be there for her whenever she needs you. Being your brother means being there for you. Period.