Project Snapshot: "Medical Education in a Digital Age: An Institutional Ethnography"
by
Kits Olga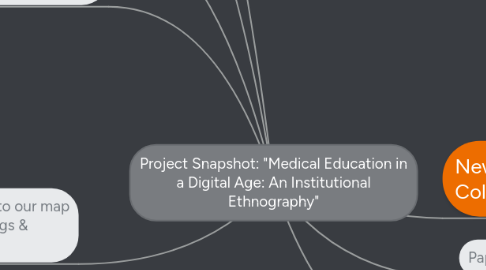 0.0
stars - reviews range from
0
to
5
Grant Basics (protocol, timeline, REB submission etc)
Title: "Higher Education in a Digital Economy: An Institutional Ethnography"
Team
Goals & Objectives & Deliverables
Research Questions
Objectives
Deliverables (how do we know we are successful?)
ICMJE principles of authorship aka Vancouver guidelines - Updated
Open Medicine policy on guest & ghost authorship
http://www.icmje.org/ethical_1author.html
Thoughts about Data collection
Data Collection
Fieldnotes
Data Analysis
Data management
Project Presentations & Posters
Anna Macleod, Olga Kits, Jonathan Tummons, Joan Sargeant, Karen Mann. "Distributed Medical Education at Dalhousie University: Sociomaterial Considerations". Canadian Conference on Medical Education (CCME), Ottawa, April 2014. [accepted - oral presentation]
Anna MacLeod, Cathy Fournier, Olga Kits Passive learning
Cathy Fournier, Anna MacLeod, Olga Kits Technologies and Boundaries
Anna Macleod & Olga Kits. "Button-mediated medical education: Distributed learning in a digital age". ProPel Conference, University of Sterling, Scotland, 2014. [accepted poster]
Anna Macleod, Olga Kits, Cathy Fournier | AMEE Poster 2013
Olga Kits, Anna Macleod, Cathy Fournier | Research Protocol poster | QHR & Local medical education conference, 2013
Jonathan Tummons, Anna Macleod, Olga Kits | Oxford U. Conference & Draft Paper. "ICTs and the internet as field and framework: a reflexive commentary on a live Canadian/UK institutional ethnography." Oral Presentation.
Follow this link to go to our map of meetings, recordings & resources
http://bit.ly/1f0evKN
New Potential Paper Collaborations
Pedagogical Partners
Papers Published to Date
MacLeod, Anna, Olga Kits, Emma Whelan, Cathy Fournier, Keith Wilson, Gregory Power, Karen Mann, Jonathan Tummons, and Peggy Alexiadis Brown. "Sociomateriality: A Theoretical Framework for Studying Distributed Medical Education." ACADEMIC MEDICINE (2015).
Tummons, Jonathan, Anna Macleod, and Olga Kits. "Ethnographies Across Virtual and Physical Spaces: A Reflexive Commentary on a Live Canadian/UK Ethnography of Distributed Medical Education." Ethnography and Education 10, no. 1 (2014): doi:10.1080/17457823.2014.956229.