THE GRAHAM TECHNIQUE
by Britani Torres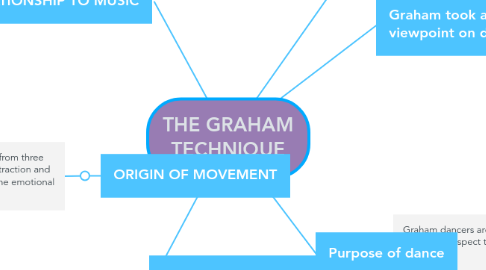 1. RELATIONSHIP TO MUSIC
1.1. Graham, under Horst's influence, believed that music should be sublimated to the dance.
1.1.1. The function of the music was to support the mood and emotional content of the piece, not to be the guiding stimulus for its creation.
2. ORIGIN OF MOVEMENT
2.1. Movement is generated from three places: the action of contraction and release, the pelvis, and the emotional inner self.
2.1.1. The repeated use of the contraction and release gives a rhythmic energy to the movements in this technique
3. RELATION TO SPACE AND GRAVITY
3.1. Graham dancers are creatures of the earth who respect the power of gravity.
3.1.1. The fall is the acknowledgment of the power of gravity.
3.2. We teach the falls to the left because, unless you are left-handed, the right side of the body is the motor side; the left hand is the unknown. You fall into the left hand - into the unknown
4. The function of dance is communication
4.1. Body is the basic instrument, intuitive, instinctive.
4.1.1. Every movement must have a clear and perceivable meaning.
5. Graham took a psychoanalytical viewpoint on dance.
5.1. Her dances were dramatic expressions of the conflict between the individual and society in an attempt to look at the internal motivations of humanity.
6. Purpose of dance
6.1. Everything that a dancer does, even in the most lyrical thing, has a definite and prescribed meaning
6.1.1. the movements in the technique itself are not natural gestures, they are artificial ones