NutriScape Student Activities
by Steph Figon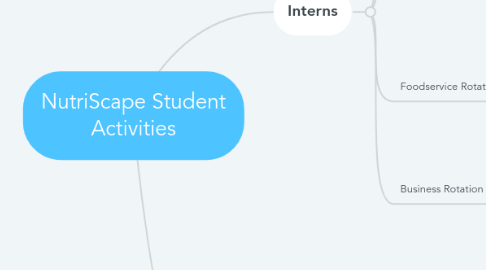 1. Interns
1.1. Community Rotation
1.1.1. Write Age-Based Course
1.1.2. Write Age-Based Web Articles
1.1.3. Write Age-Based Lead Generators
1.2. Clinical Rotation
1.2.1. Write a Medical Nutrition Course or Culinary Medicine Course
1.2.2. Write Medical Nutrition Web Articles
1.2.2.1. Interview dietitians
1.2.2.2. Get True stories from RDNs on SM
1.2.3. Write Medical Nutrition Lead Generators
1.3. Foodservice Rotation
1.3.1. Write Foodservice Related Course
1.3.1.1. Pick the audience & topic
1.3.1.2. Invite peer review
1.3.2. Write Foodservice Related Web Articles
1.3.2.1. Interview
1.4. Business Rotation
1.4.1. Marketing via phone, SM, email
1.4.2. Website mgmt, keywords, Analytics
1.4.3. Write Marketing copy
2. DPD & Masters Programs
2.1. CONSUMER, PROFESSIONAL, OR FOOD ARTICLES
2.1.1. Use the Writers' site to find articles you would benefit from writing about. We will use RDN social media groups invite peer-review for your articles, send you that feedback and have you revise your article before publication on the NutriScape.NET consumer site or RDNutriScape site.
2.2. RECIPES
2.2.1. Write, Photograph, Perform Nutrient Analysis, and categorize Recipes for use on the Food.NutriScape.NET site.
2.3. CONSUMER COURSES
2.3.1. Design and outline MicroCourses discussing
2.4. FOODSERVICE COURSES
2.4.1. Design and produce courses using the Teachable program to teach foodservice skills for use in hospital, nursing home, or restaurant foodservice workers.