Holders
by Adrian Foo qi wei (Msh)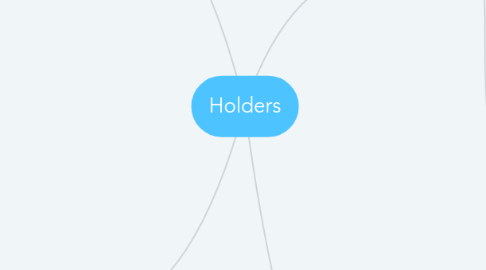 1. Kitchen
1.1. Knife holder: A holder to allow knifes to be stored safely
1.1.1. Characteristics
1.1.1.1. Stable: Holder must be able to withstand a heavy weight and remain upright
1.1.1.2. Upright
1.1.1.3. Multiple slots for multiple knives
1.2. Cutlery holder: A holder to hold cutlery in a hygenic and convenient way
1.2.1. Charateristics
1.2.1.1. Stable: Holder must be able to withstand a heavy weight and remain upright
1.2.1.2. Light-weight: Holder must be light-weight due to its nature, this usually means that the holder has to be moved around freqeuntly
1.2.1.3. Upright
1.2.1.4. Large hole in the middle to place cutler in
1.3. Cup holder: A hanging holder where the ring of a cup can be hanged from
1.3.1. Characteristics
1.3.1.1. Water-proof: Holder must be water-proof since it will be exposed to water frequently
1.3.1.2. Hanging
1.3.1.3. Protusion from holder that the ring of cap can be placed over
2. Classroom
2.1. Book holder: A book holder that holds textbooks upright on a classroom table
2.1.1. Characteristics
2.1.1.1. Stable: Holder must be able to withstand a heavy weight and remain upright
2.1.1.2. Light-weight: Holder must be light-weight due to its nature, this usually means that the holder has to be moved around freqeuntly
2.1.1.3. Upright
2.1.1.4. A stand for books that works by holding books up from the back
2.2. Stationary holder: A holder to put items outside of your pencil case to prevent them from falling.
2.2.1. Characteristics
2.2.1.1. Stable: Holder must be able to withstand a heavy weight and remain upright
2.2.1.2. Light-weight: Holder must be light-weight due to its nature, this usually means that the holder has to be moved around freqeuntly
2.2.1.3. Holder has a slot in the middle to hold cutlery in.
2.2.1.4. Upright
2.3. Water bottle holder: A holder to stabilise water bottles on tables and preventing spillage
2.3.1. Characteristics
2.3.1.1. Water-proof: Holder must be water-proof since it will be exposed to water frequently
2.3.1.2. Light-weight: Holder must be light-weight due to its nature, this usually means that the holder has to be moved around freqeuntly
2.3.1.3. A holder with a large hole in the middle where the bottle can be placed
2.3.1.4. Upright
3. Bathroom
3.1. Toothbrush holder: To hold a toothbrush in when not in use
3.1.1. Characteristics
3.1.1.1. Water-proof: Holder must be water-proof since it will be exposed to water frequently
3.1.1.2. Upright
3.1.1.3. A holder with mutliple holes for toothbrushes
3.2. Shampoo holder: A stable holder that can hold a shampoo bottle without toppling
3.2.1. Characteristics
3.2.1.1. Stable: Holder must be able to withstand a heavy weight and remain upright
3.2.1.2. Water-proof: Holder must be water-proof since it will be exposed to water frequently
3.2.1.3. Upright
3.2.1.4. A holder that holds shampoo bottles stabily by supporting it from the sides
3.3. Towel holder: A hanging holder that can withstand the weight of a towel
3.3.1. Characteristics
3.3.1.1. Water-proof: Holder must be water-proof since it will be exposed to water frequently
3.3.1.2. Hanging
4. Living room
4.1. Tv remote holder: A holder for tv remotes when not in use
4.1.1. Characteristics
4.1.1.1. Stable: Holder must be able to withstand a heavy weight and remain upright
4.1.1.2. Upright
4.1.1.3. A holder with a hole in the middle to put the remote in
4.2. Condiment holder: A holder to store condiments like ketchup on a dinner table
4.2.1. Characteristics
4.2.1.1. Light-weight: Holder must be light-weight due to its nature, this usually means that the holder has to be moved around freqeuntly
4.2.1.2. Upright
4.2.1.3. A holder with at least two slots to put condiments in
4.3. Small plant holder: A holder for small fauna for decoration
4.3.1. Characteristics
4.3.1.1. Stable: Holder must be able to withstand a heavy weight and remain upright
4.3.1.2. A holder with a hole to be filled with soil and a small plant
4.3.1.3. Water-proof: Holder must be water-proof since it will be exposed to water frequently
4.3.1.4. Upright