E-Procurement Electronic procurement uses the Internet to facilitate purchases. Electronic procurement accelerates purchasing, reduces costs, and integrates the supply chain, enhancing an organization's competitive advantage. The following are some examples of how e-procurement can work.
by Paula Andrea Rojas Rueda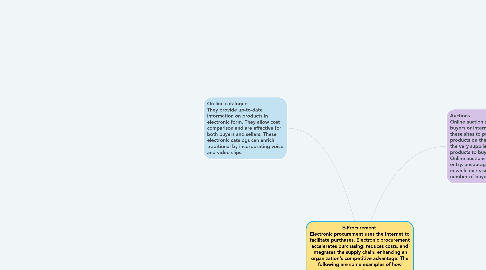 1. Strategic sourcing in purchases In recent years, strategic sourcing has become a context focus. Simply put, it means that companies are adopting a new strategy for purchasing services and products. Before the company decides to buy a product or service, strategic sourcing is used to consider the total cost of a product or action, not just the price. In a strategic sourcing process, other costs are also examined, for example the cost of purchasing, transportation, support, maintenance, and disposal. Leading companies have realized the benefits of strategic sourcing, and many have already achieved impressive cost reductions.
2. On-line catalogue They provide up-to-date information on products in electronic form. They allow cost comparison and are effective for both buyers and sellers. These electronic catalogs can enrich traditional by incorporating voice and video clips.
3. Auctions Online auction sites. Sellers, buyers or intermediaries maintain these sites to publish their products on the web and wait for the very suppliers who need the products to buy them. Online Online auctions lower barriers to entry, encouraging sellers to join in while increasing the potential number of buyers.
4. RFQs When purchasing requirements are not standard, the time spent preparing requests for quotation (RFQs) and the related offer package can be considerable. Consequently, e-procurement reduces online shopping time. It provides purchasing staff with a comprehensive database of suppliers, deliveries, and quality.
5. Real-time inventory tracking International factories implement package tracking through Internet systems. Through the use of barcodes and the Internet, the product is tracked in the distribution system. As operations managers move into an era of mass customization, with customers ordering exactly the product they want, customers will expect to know where their products are and when exactly they can pick them up.