Roman Civilization
by oscar.castaneda oakland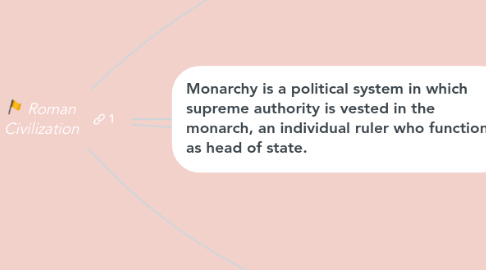 1. Monarchy is a political system in which supreme authority is vested in the monarch, an individual ruler who functions as head of state.
1.1. THE MONARCHY IS A FORM OF GOVERNMENT WITH A MONARCH AT THE HEAD
2. WHAT IS A REPUBLIC
2.1. . a form of government in which the people or their elected representatives possess the supreme power. a political or national unit possessing such a form of government. a constitutional form in which the head of state is an elected or nominated president.
2.2. THE REPUBLIC IS A GROUP WITH CERTAIN EQUALITY BETWEEN ITS MEMBERS
3. WHAT IS EMPIRE
3.1. THE EMPIRE IS AN EXTENSIVE GROUP OF STATES AND COUNTRIES UNDER A SUPREME AUTHORITY.
4. What is a Monarchy?