The fashion industry around the world.
by Camilla DiazDuran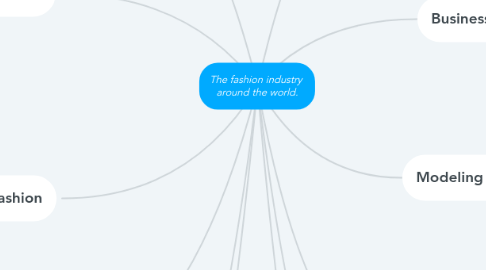 1. Parsons Vs. Marangoni
1.1. Parsons (NY)
1.2. Marangoni (Milan)
1.3. Are the design methods and techniques the same or do they use a specific one each?
1.4. Which school has more workload for fashion design major?
1.5. From which school graduated the most recognized and talented designers?
2. Business Vs. Marketing
2.1. Business
2.2. Marketing
2.3. Differences between each of the four capitals.
3. Fashion in Asia Vs. Middle East
3.1. Middle East
3.2. Asia
3.3. Which of this areas are the most involved in fashion?
3.4. Different traditions, cultures, events they attend.
4. Advertising in NY Vs. Paris
4.1. New York
4.2. Paris
4.3. Vogue NY Vs. Paris
4.4. Fashion week in NY Vs. Paris
4.5. SImilarities and differences.
5. The four capitals of fashion
5.1. Milan
5.2. Paris
5.3. New York
5.4. London
5.5. Purpose of each city .
5.6. Fashion week during these cities
6. Modeling business
6.1. Differences between the four capitals of fashion?
6.2. Famous agency's and how they differ from one another.
6.3. What is required to be eligible to get in?
6.4. Hardest modeling agency to get in?
7. Miami, Los Angeles, Tokyo, Rome
7.1. Different schools of fashion
7.2. fashion's purpose in each of these cities.
7.3. Comparing what is trending in these cities.
8. Fashion history
8.1. Country it started?
8.2. Who were people wearing.
8.3. Artists that started coming out.
8.4. Louis XIV used fashion as a strategy.
9. Fashion Magazines
9.1. Porpuse of each magazine
9.2. Audience for each magazine
9.3. Elle vs. Vogue
9.4. First copy of Vogue issued?
9.4.1. September 1916. British Vogue during World War 1
9.5. Anna Wintour
9.6. Anna Dello Russo
9.7. Angelica Cheung
9.8. Edward Enninful
9.9. Emmanuelle Alt
10. Powerful figures in the fashion industry.
10.1. Miuccia Prada
10.2. Karl Lagerfeld
11. Difference between fast fashion, ready to wear, haute couture
12. Social factors affecting the fashion industry
12.1. Cultures, norms, lifestyle, demographics, population changes.