Covid-19
by Kax Pillay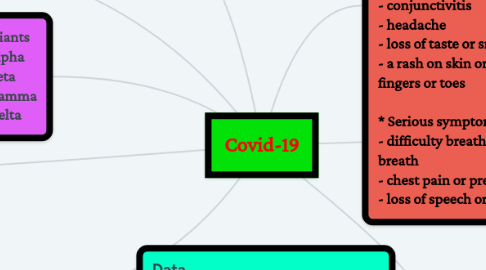 1. Definition * The SARS-CoV-2 virus causes Coronavirus illness (COVID-19).
2. Symptoms * Most common symptoms: - fever - dry cough - tiredness * Less common symptoms: - aches and pains - sore throat - diarrhoea - conjunctivitis - headache - loss of taste or smell - a rash on skin or discoloration of fingers or toes * Serious symptoms: - difficulty breathing or shortness of breath - chest pain or pressure - loss of speech or movement
3. Causes * Transmission * Virology * Variants
4. Variants * Alpha * Beta * Gamma * Delta
5. Effects * Students - disruption among students education - worsen student's mental health * Business - closure of small businesses - retrenchment of jobs * Household - financial strain to support family members - lack of basic essentials needs
6. Prevention * To prevent the spread of Covid-19: - Maintain a safe distance from others, even if they do not appear to be unwell. -Wear a mask in public, especially if you can't separate yourself physically. - Open, well-ventilated areas are preferable than closed ones. If you are indoors, open a window. - Hands should be washed often. Use soap and water or an alcohol-based hand rub to clean your hands. - When it's your turn, get vaccinated. In terms of immunization, follow local recommendations. - When you cough or sneeze, cover your nose and mouth with your elbow or a tissue. - If you are feeling ill, stay at home.
7. My Contribution to Society * Contribute to research * Get involved and volunteer * Follow the rules * Support the people in the community * Financial support
8. Data * As of 14th of September 2021, the Covid-19 cases in Malaysia was 15,669, The cases has dropped a little more since the up rise of cases from starting of August 2021.