TRIP TO VALLEDUPAR
by Maria Angelica Escobar Espinosa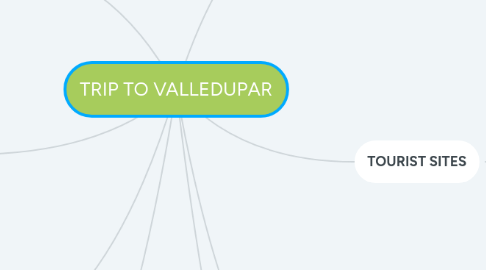 1. Multimodal transport was used for the trip
1.1. We use vans of our relatives to travel from the city of Bogota to Valledupar
1.2. We wanted to bring merchandise from there to sell in the city of Bogota, such as ponchos, musical instruments to form a good orchestra.
1.3. We also use air transport to bring handicrafts to the city of Bogota that are a little more delicate, such as representative articles for interior decoration.
2. TOURIST SITES
2.1. Among the tourist sites that we met with my family were.
2.1.1. The Plaza Alfonso López de Valledupar, one of the most emblematic places in the city.
2.1.2. We visited La Sirena de Hurtado and the Guatapurí river.
2.1.3. The natural waters, surrounded by large stones from the Badillo River, have been a source of inspiration for poets, singers, composers and writers who have based their artistic creations on them.
2.1.3.1. To move within the tourist sites we use a lot of taxis that are green.
2.1.4. It is the foundational square of the city and the Festival of the Vallenata Legend was held there for several decades.
2.1.5. the most famous alleys located in the Cañaguate neighborhood, today it is one of the few places that is originally preserved with inspiration for the bohemians. It is located in the historic center of Valledupar.
3. typical dishes
3.1. sausage with bun
3.2. grilled arepas with ground beef
3.3. fried cheese fingers
3.4. arepas stuffed with meat
4. Valledupar, also called the City of the Holy Kings of the Upar Valley, is a Colombian municipality, capital of the Cesar department.
5. It is a place that generates warmth, harmony, peace, tranquility, its people are very friendly and helpful.
6. People in Valledupar really like sports, they travel by bicycle.
7. Alfonso López Pumarejo Airport is located south of Valledupar, 15 minutes by car. Serves only domestic flights to and from Bogotá, Barranquilla and Bucaramanga
8. Riding a bicycle can be hard work and can take a long time to travel long distances. Cars and motorcycles are faster modes of transportation, but they are more expensive to use as gasoline is needed to run them.