Main Factors and Impacts
by Jemma Innes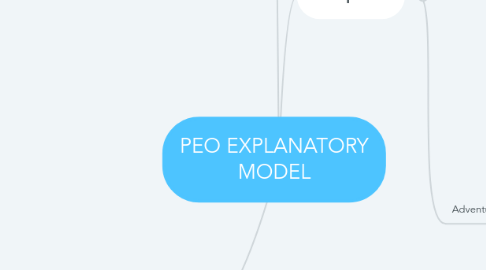 1. Population
1.1. Youth
1.1.1. High rates of child abuse & child protection notifications
1.1.1.1. Exposure to domestic violence/experience of family violence
1.1.2. Students
1.1.2.1. High levels of disengagement
1.1.2.1.1. Student disengagement relates to the thought that engaging in school is 'feminine'
1.1.2.1.2. Negative health and social consequences
1.1.2.2. Extremely developmentally vulnerable in all 5 domains fo AEDI
1.2. Stakeholders
1.2.1. The Salvation Army
1.2.1.1. Mentors
1.2.1.2. Mentees
1.2.1.3. Guests to The Salvation Army who provide assistance
1.2.1.4. Our sponsor
1.2.1.5. Other volunteers
1.2.2. Community
1.2.2.1. Members
1.2.2.1.1. Parents
1.2.2.1.2. Youth
1.2.2.2. Frankston City Council
1.2.2.3. Primary Schools
1.2.2.3.1. Mahogany Rise Primary School
1.2.2.3.2. Aldercourt Primary School
1.2.2.4. High Schools
1.2.2.4.1. Monterey Secondary College
1.2.3. Allied Health Workers
1.2.3.1. Youth workers
1.2.3.2. Case managers
2. Environment
2.1. Social:
2.1.1. Mentors within the program
2.1.1.1. Connections with non-parental adults have been shown to increase positive development by promoting positive emotional, educational, and behavioural outcomes among adolescents and young adults
2.2. Policy:
2.2.1. Family Violence policy
2.2.1.1. Supporting VIC Gov schools to share information in Family violence issues
2.2.1.2. Violence statewide support services
2.2.1.2.1. Safe Steps
2.2.1.2.2. Sexual Assault Crisis Line
2.2.1.2.3. Kids Helpline
2.2.2. Frankston North Education Plan
2.2.2.1. Improve quality of education across Frankston North
2.3. Institutional:
2.3.1. Raven & the Wolf Mentorship program
2.3.1.1. mentoring program
2.3.1.2. 2:2 mentoring program
2.3.1.3. Creative Art
2.3.2. The Salvation Army
2.3.2.1. encouraging young people's abilities and skills
2.3.2.2. increasing youth's self-esteem
2.3.2.3. enhancing young people's communication skills
2.3.2.4. prevent youth anti social behaviour
3. Occupation
3.1. Domestic/family violence
3.1.1. Negatively impacts occupational performance
3.1.1.1. Educational participation impacted
3.1.2. Exposure in childhood negatively impacts physical and mental health in adulthood
3.2. School
3.2.1. Chronic absence from school
3.2.1.1. 24% of primary school absence
3.2.1.2. 44% of secondary school absence
3.2.1.3. Negative impacts on academic achievement
3.2.1.4. Impact of absence is greater for those from low socioeconomic backgrounds
3.2.2. Early school leavers
3.2.2.1. Extreme levels of disadvantage
3.2.2.2. Low aspirations
3.2.2.3. Poor learner engagement
3.2.2.4. High risk of a lifetime of economic and social disadvantage
3.2.2.5. More likely to experience unemployment
3.3. Adventure therapy
3.3.1. OT
3.3.1.1. Occupation as means where challenging activities, often contrived and a one off experience, are used to facilitate learning skills and developing insights that will support changes in occupational identity and engagement.
3.3.1.2. At-risk youth have been seen to benefit from occupation based camp programs that promote active engagement and sustain the benefits once they return