TRADITION IN ECUADOR
by JOHAM SILVA OBANDO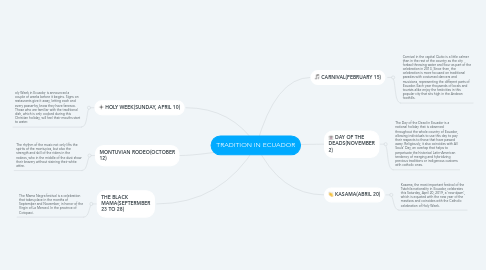 1. CARNIVAL(FEBRUARY 15)
1.1. Carnival in the capital Quito is a little calmer than in the rest of the country as the city forbad throwing water and flour as part of the celebration in 2013. Since then, the celebration is more focused on traditional parades with costumed dancers and musicians, representing the different parts of Ecuador. Each year thousands of locals and tourists alike enjoy the festivities in this popular city that sits high in the Andean foothills.
2. DAY OF THE DEADS(NOVEMBER 2)
2.1. The Day of the Dead in Ecuador is a national holiday that is observed throughout the whole country of Ecuador, allowing individuals to use this day to pay their respects to those that have passed away. Religiously, it also coincides with All Souls' Day, an overlap that helps to perpetuate the historical Latin-American tendency of merging and hybridizing previous traditions or indigenous customs with catholic ones.
3. HOLY WEEK(SUNDAY, APRIL 10)
3.1. oly Week in Ecuador is announced a couple of weeks before it begins. Signs on restaurants give it away, letting each and every passer-by know they have fanesca. Those who are familiar with the traditional dish, which is only cooked during this Christian holiday, will feel their mouths start to water.
4. KASAMA(ABRIL 20)
4.1. Kasama, the most important festival of the Tsáchila nationality in Ecuador, celebrates this Saturday, April 20, 2019, a 'new dawn', which is equated with the new year of the mestizos and coincides with the Catholic celebration of Holy Week.
5. MONTUVIAN RODEO(OCTOBER 12)
5.1. The rhythm of the music not only lifts the spirits of the montuvios, but also the strength and skill of the riders in the rodeos, who in the middle of the dust show their bravery without staining their white attire.
6. THE BLACK MAMA(SEPTERMBER 23 TO 28)
6.1. The Mama Negra festival is a celebration that takes place in the months of September and November, in honor of the Virgin of La Merced. In the province of Cotopaxi.