LEARNING MAP
by jemma mc cauley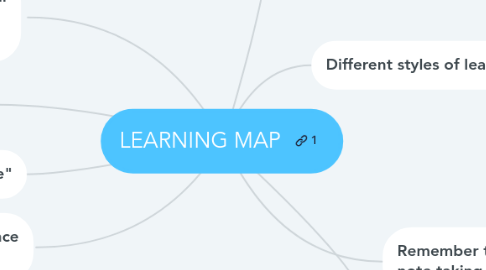 1. Different styles of learning
1.1. VAP (Visual, Audio, Physical)
1.2. Remember: 20% of what we READ
1.3. 30% of what we HEAR
1.4. 40% of what we SEE
1.5. 50% of what we SAY
1.6. 60% of what we DO
1.7. 90% of what we READ, HEAR SAY & DO!
2. Brain is more advanced than technology & your in control!
2.1. Positivity in - Positivity out
3. Get rid of fear (False Evidence Appearing Real)
4. Adapt what the most successful way of learning for you as an individual
5. Form good habits for example reading for 15 mins a day
6. "If it is meant to be its up to me"
7. Set Goals! Break them into short term goals and long term goals!
7.1. Get rid of procrasination, ACT NOW!
8. Remember the importance of note taking within your lecturers