MS Teams as a Collaborative Communication Tool
by Eric Roseweir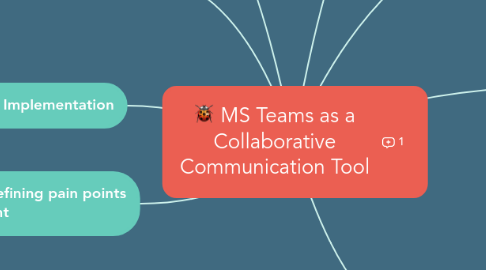 1. Document storage in SharePoint. Every team who uses Microsoft Teams will have a site in SharePoint Online, which will contain a default document library folder. All files shared across all conversations will automatically save to this folder. Permissions and security options can also be customized for sensitive information.
2. Integrating Brainstorming Tools for Project Planning and Management
2.1. Mindmeister
2.1.1. Creating a Mindmap, Collaborating with others for ideas and putting ideas into action
2.2. Ms Planner
2.2.1. Planner is a simple and visual way to organize teamwork, setting and assigning Tasks to individuals or groups
3. Outlook Calendar Integration
3.1. This is integration of individual or Team Calendars
3.2. Meetings can be recorded, automatically from Meeting Options button with Teams or Outlook
4. Benefits of using Teams
4.1. Using Teams and channels. Teams are made up of channels, which are conversation boards between teammates.
4.1.1. Features include online meetings, chat function and screen-sharing and more.
5. Training and defining pain points per Department
5.1. Schedule training per department, training will be to ensure the Teams Basic functionality is understood. The add on features will be part of the training
5.1.1. Discuss pain points per Department while performing Training. This will assist us to investigate what features there are that might be able to assist with the pain points.
5.1.1.1. The benefit of the 101 training is to ensure all resources know how to use the basics of teams and this will result in less support calls.
5.1.1.1.1. The benefit of discussing the pain points will assist the Technical Team to naoorw down the investigation into the 1000's of Apps available and wil decrease the investigation and implementation time
6. One Drive Implementation
6.1. Provides a solution for a secured way to share files internally and externally
6.1.1. Convenient Cloud Storage Available anywhere, with up to 1.5 Terabytes per User
7. Apps Investigated but not implemented
7.1. Survey Monkey
7.1.1. Robert advised they use MailChip instead of Survey Monkey, and He is the only One using it.
7.2. Zoho
7.2.1. Robert advised that due to issues in their recruitment team, they received 100 mails a day and some of these resulted in double work, the App was exluded.
8. Microsoft Teams aims to help businesses and their teams communicate and collaborate with ease.