MARKET SEGMENTATION
by Federica Campiglia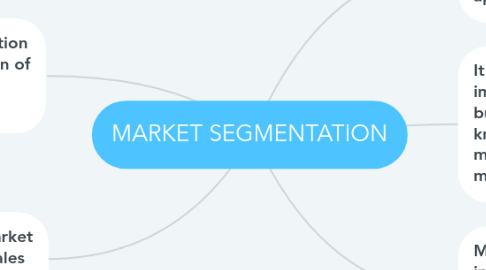 1. In a business, a MARKET is the potential buying audience for either aproduct or a service.
2. It is very important for a business to know who makes up their market.
2.1. INDUSTRIAL MARKETS: market focusing on the needs of other businesses.
2.2. CONSUMER MARKETS: are made up of private individuals buying products or service.
3. Market segmentation is the identification of portions of the consumer market.
3.1. DEMOGRAPHIC: gender, age, ethnic backgorind, nationality, education, income, social class, family size, religion.
3.2. GEOGRAPHIC: urban or rural area, population density, region of the country.
3.3. PSYCHOGRAPHIC: lifestyle, opinions, hobbies, interests, values.
3.4. BEHAVIOURAL: usage rate, occasion, brand loyalty, readiness to buy, benefits sought.
4. The better you know your market segments, the better yours sales will be.
5. Marketing stategists use the information from MS to better target their products and to develop new products based on the needs these MSs reveal.