Case #5: Haifa's Life
by Adil Khalid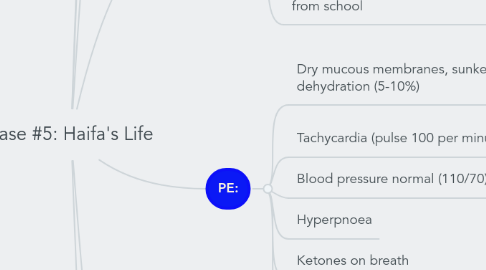 1. Cues:
1.1. Vomiting overnight
1.2. Drowsy and complaining of abdominal pain
1.3. Polyuria
2. Differentials
2.1. Diabetic Ketoacidosis
2.1.1. "Polyuria should always raise the question of diabetic ketoacidosis"
2.1.1.1. DKA
2.1.1.2. Psychosocial issues - relationship with mother
2.1.1.2.1. "Non-compliance" "Underlying depression"
2.1.1.3. Depression
2.2. Gastroenteritis
2.3. Appendicitis
2.4. Pancreatitis
2.5. Intestinal obstruction
2.6. Drug overdose
3. Presentation: Haifa is a 13-year-old young woman who presents at Accident and Emergency on, having been vomiting overnight. She is drowsy and is complaining of abdominal pain, polyuria, and feeling generally unwell.
4. Hx
4.1. DM since age 10
4.2. Death of her father from coronary artery disease
4.3. Last year, maintaining high HbA1c levels (9-10%); presented to ER with DKA
4.4. Recent months, has been truanting from school
5. PE:
5.1. Dry mucous membranes, sunken eyes: dehydration (5-10%)
5.1.1. "The dehydration is the big thing. The findings strongly suggest diabetic ketoacidosis as the major medical presenting problem. Abdominal pain is a common feature of diabetic ketoacidosis."
5.2. Tachycardia (pulse 100 per minute)
5.3. Blood pressure normal (110/70)
5.4. Hyperpnoea
5.5. Ketones on breath
5.6. Abdomen - soft and tender without a rebound
6. Investigations:
6.1. Na+: 137 (corrected 143)
6.1.1. "It is essential to calculate the corrected serum sodium in DKA as the hyperglycemia may mask co-existent hypernatraemia."
6.2. K+: 5.6 (3.5-5.5 mmol/L)
6.3. Cl-:98 (95-110 mmol/L)
6.4. Bicarbonate: 16 (22-26 mmol/L)
6.5. Tot protein: 92 (55-80 g/L)
6.6. Urea: 8.1 (1.0-6.0 mmol/L)
6.7. Creatinine: 75 (55-120 umol/L)
6.8. Glucose: 28.3 (2.5-5.5 mmol/L)
6.9. Urine full ward test: Ketones +++ Glucose +++ Protein + Blood -
6.10. Blood: pH: 7.25 (7.34 -7.43) pCO2: 22 (32-45 mmHg) WBC tot: 22.7 (4.5 -13 x 10^9 /L) Platelets: 559 (150-600 x 10^9 /L) Neut: 15 (1.5- 8 x 10^9 /L) Lym: 6.4 (1.0-6 x 10^9 /L) Mono: 0.9 (0.2- 0.8 x 10^9 /L) Eos: 0.5 (1.0 -1.1 x 10^9 /L) Hemat: 55% (37- 48%) MCV: 99.2 (78-95 fl) MHC 28.9 (25-35 pg)
6.11. LFT, Abdominal ultrasound, CXR, AXR: Normal No UTI
6.12. HbA1c: 11.0% (6.5 - 8.0 %)
6.13. Weight: 75- 90th 3 months ago- now, 50th
7. Diagnosis: Insulin omission leading to diabetic ketoacidosis in the context of psychosocial problems and depression
7.1. Management
7.1.1. Acute management of midl ketoacidosis
7.1.1.1. Admit: to treat dehydration
7.1.1.2. Fluid replacement
7.1.1.3. Insulin - infusion vs. subcutaneous
7.1.1.4. Observation
7.1.1.5. NB potassium replacement
7.1.2. Longer-term management
7.1.2.1. Refer to an Adolescent Clinic for further assessment and individual and family counseling
7.1.2.2. Contact school counselor
7.1.2.3. Discharge to GP for non-compliance