Question Drucker's Questions: Why is it so frustratingly difficulty to get them "right"....
by
Benny Chin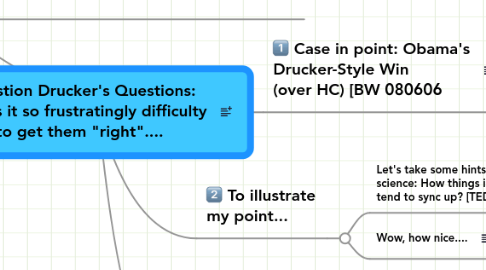 5.0
stars -
1
reviews range from
0
to
5
Question Drucker's Questions: Why is it so frustratingly difficulty to get them "right"....
Puzzling questions about Peter Drucker's questions....   Peter Drucker is known for asking deceptively simple questions, in that answering them "invariably turns into an exigent excercise," as Drucker expert Rick Wartzman aptly points out.   Why so? What makes an answer right? Why is it that Drucker seems to be the only one who readily knows the answers? As well, if Drucker's questions don't necessarily lead to the right answers, what are they really good for?  These are some of the obvious questions surrounding Drucker's questions, which people seeking wisdom from his teachings seem to have taken for granted.   Taking some hints from nature, this mind map is an attempt to probe into some such questions, as a tribute to commemorate the 100th birthday of this great guru this year. Benny Chin ptchin@L2Lnet.net 090430
Answering Drucker's Questions, A Case Study:   The linked article is from Business Week.  Written by Rick Wartzman, the director of the Drucker Institute at Claremont Graduate University, it serves to illustrate the gist of my argument perfectly:   Wartman claims that Obama's win over Hillary Clinton in the 2008 Democratic nomination for President was in large measures due to Obama's "superior ability--at management, Peter Drucker style."  To illustrate his point, Wartzman compares how Obama and Clinton would have responded to the 5 basic questions that Drucker believes every organization must ask, namely: What is our mission? Who is our customer? What does the customer value? What are our results? What is our plan? Of these 5 questions, Wartzman claims that both "Obama and Hillary Clinton began with a similar answer to Drucker's first question: ....ascending to the top of their party's ticket.... But once you get past that, the dueling senators, in effect, answered Drucker's next four questions very differently."   If this were true--and I believe it is--adding to it the fact that the first question is a no-brainer to the dueling senators, it becomes starkly obvious to me that Obama's answers to Drucker's questions were not arrived at through answering them!! They would have to come from somewhere else....  
To illustrate my point...
According to mathematician Steven Strogatz in the linked TED video (for the purpose of following my arguments, you only need to watch the first 7:27 min. of ths video,) there are 3 simple rules for bird and fish swarms to synchronize: all individuals are only aware of their nearest neighbour all individuals have a tendency to line up all are attracted to each other but keep a short distance apart (And the 4th rule is to get out of the way when a predator is coming.)    
Wow, how nice....
...If only this would happen to a human organization! Come to think of it, these sync rules might actually fare well in a management context: easy to understand; easy to communicate; mesmurizing results; absolutely no pre-meditated planning needed--the choreography simply evolves by itself, spontaneously.  (Contrary to mathematician Strogatz's suggestion, even the performers themselves are not doing the choreography-- the birds are all on their own;) and talking about change management....   Two points I'd like to make to connect these observations to the Drucker questions under consideration: Simple rules, infinite outcomes--The sync rules, though essential for swarms to form, do not in any way determine the emergent swarm formation. In the same way, it is misguided to think that Drucker's 5 essential management questions had led Obama to his astounding winning answers.    
What to keep in mind when approaching Drucker's questions....
  There are 2 sides to Peter Drucker, namely: Drucker the Father of Modern Management and Drucker the Social Ecologist To answer Drucker's management questions, one must think like Drucker the Social Ecologist (which incidentally, is what Peter Drucker would like to be known for.) Guiding questions which Drucker suggests for the Social Ecologist (added to this concept map on 090513): What changes have already happened that do not fit "what everybody knows"? Is there any evidence that this is a change and not a fad? If this change is relevant and meaningful, what opportunities does it offer?  
Please note: I'm not saying Drucker's questions don't serve a purpose....
The take-away, (allow me for being presumptuous)....   Simply put, the 5 basic questions quoted above, which Drucker recommended that every organzation should ask are for strategic planning.  They're useful to you only if you already knew the answers!!