The Data Analysis Process: 5 Steps To Better Decision Making By John Dillard
by Saint Martin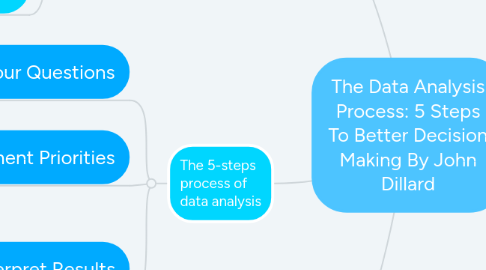 1. Step 3: Collect Data
1.1. Determine what information could be collected from existing databases or sources on hand
1.2. Determine a file storing and naming system ahead of time
1.3. Develop an interview template ahead
1.4. Keep your collected data organized in a log with collection dates and add any source notes as you go.
2. Step 4: Analyze Data
2.1. Deeper data analysis.
2.1.1. Begin by manipulating your data in a number of different ways.
2.1.1.1. Plotting it out and finding correlations or by creating a pivot table in Excel.
2.2. Might need to revise your original question or collect more data.
2.3. During this step, data analysis tools and software are extremely helpful.
3. The 5-steps process of data analysis
3.1. Step 1: Define Your Questions
3.1.1. Must begin with the right questions
3.1.2. Design the right questions
3.2. Step 2: Set Clear Measurement Priorities
3.2.1. Decide What To Measure
3.2.2. Decide How To Measure It
3.3. Step 5: Interpret Results
3.3.1. After analyzing data and possibly conducting further research
3.3.1.1. The only remaining step is to use the results of data analysis process to decide your best course of action.
3.3.2. With practice, your data analysis gets faster and more accurate.