Problem Statement - Susan's teenagers have messy rooms. This makes Susan crazy and creates stress and conflict between Susan and her children. Susan knows how to clean a room and keep it tidy. Perhaps her children need to have it broken down using computational thinking to make it easier for them to manage.
by Susan Sharrow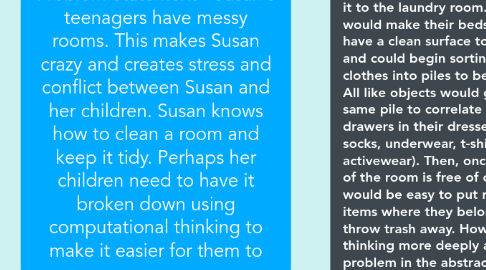 1. Decomposition - The major components of the mess in their rooms are: dirty clothes on the floor, clean clothes that need to be put away, an unmade bed, trash that needs to be thrown away, and items such as papers or books that are out of place. Their rooms also get dirty and need to be dusted and vacuumed.
1.1. Rationale - Breaking larger problems into smaller, simpler problems or tasks is an important step in computational thinking. According to Vaidyanathan (2016),
2. Pattern Recognition - This is clearly a very large problem, but patterns do emerge. One is the problem of clothes. Clean clothes and dirty clothes are everywhere and it is probably overwhelming to them. The lack of a clean surface on which to sort clean clothes (the unmade bed) further contributes to this problem. The general clutter exacerbates the appearance of mess.
2.1. Rationale - there are quite a few patterns that could emerge here. One is the ability to create sub-problems. I could focus entirely on clothes and create an entire flowchart on managing clean and dirty laundry. However, I have tried this before, and according to the BBC (2021), if I think about similar problems in my family with messy rooms, I think the problem is actually bigger than just the laundry conundrum. We need to think about the root of the problem.
3. Abstraction - There is a lot of superfluous information in the messy room situation. The fact that the room is dirty is secondary to the clutter. Cleaning adequately is not an issue. Our big issue is maintaining spaces tidy enough that they can be cleaned.
3.1. Rationale - According to the BBC (2021), I need to focus only on what is important and minimize irrelevant information. The fact that their rooms are dirty is irrelevant in this situation. It could be argued that since the main problem seems to be laundry related, the problem of non-clothes items being out of place is also not relevant to this problem to be solved.
4. Algorithm - The easiest way to solve this problem would be to create a step-by-step flowchart that involved teaching my teenagers to remove their dirty laundry from their room and take it to the laundry room. Then they would make their beds so they have a clean surface to work with and could begin sorting all clean clothes into piles to be put away. All like objects would go in the same pile to correlate with drawers in their dressers (ex. socks, underwear, t-shirts, jeans, activewear). Then, once the rest of the room is free of clothes, it would be easy to put misplaced items where they belong and throw trash away. However, thinking more deeply about this problem in the abstraction phase above, I have realized that the problem is actually the fact that dirty and clean clothes are commingling in their bedrooms. They bring dirty clothes downstairs randomly, and I bring clean piles up to their rooms as they are folded to avoid them cluttering my laundry room. Perhaps the solution is to re-think how we handle laundry entirely. The problem is that I am bringing clean clothes up to them when I want them out of my space, regardless of whether it is a day or time that they have time to put the mountains of clean clothes away in their drawers. Clearly, I am enabling this slovenly behavior. Therefore, the solution going forward is that there are going to be no clothes out overnight. Each child will have their own hamper and dirty clothes will go in it at the end of every day. I will not bring dirty clothes downstairs and will not do their laundry at a time that is inconvenient for them to put them away. When their hamper overflows or they run out of clothes, they will bring their clothes down, wash, dry, and fold them, and take them upstairs and put them away. They will only do laundry if they have time to follow the process through to completion.
4.1. Rationale - I went off on a tangent and created two separate algorithms here. One is for teens who just can not grasp the steps required for dealing with clean and dirty laundry. For one of my children who has ADHD, that algorithm could be sufficient. However, that solution would not help my two older teens who have very little free time during the school year. The second proposed algorithm just might be the ticket to solving this problem. I plan to implement my secondary algorithm for the older teens and will test and debug my solution as necessary as recommended by Vaidyanathan (2016).
5. References: BBC. (n.d.). Introduction to computational thinking. BBC Bitesize. https://www.bbc.co.uk/bitesize/guides/zp92mp3/revision/1 Vaidyanathin, S. (2016, August 6). What's the difference between coding and computational thinking? EdSurge. https://www.edsurge.com/news/2016-08-06-what-s-the-difference-between-coding-and-computational-thinking