WEB 2.0 Elaborado por: Diana Marcela Diaz y Clara P. Guzmán.
by
Diana Marcela Diaz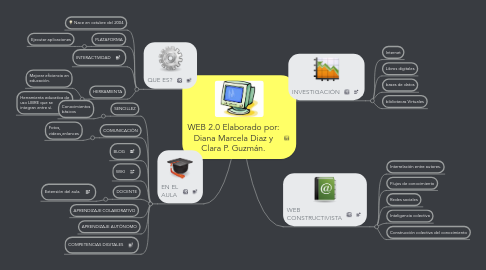 0.0
stars -
0
reviews range from
0
to
5
QUE ES?
Nace en octubre del 2004
PLATAFORMA
Ejecutar aplicaciones
INTERACTIVIDAD
Ofrece resumen de las ultimas actualizaciones y se puede consultar.
HERRAMIENTA
Mejorar eficiencia en educación.
Herramienta educatica de uso LIBRE que se integran entre sí.
WEB CONSTRUCTIVISTA
shifts in consumer tastes away from the firm's products emergence of substitute products new regulations increased trade barriers
Interrelación entre autores.
Flujos de conocimiento
Redes sociales
Inteligencia colectiva
Construcción colectiva del conocimiento
EN EL AULA
Actividades de enseñanaza aprendizaje.
SENCILLEZ
Conocimientos básicos
COMUNICACIÓN
Fotos, videos,enlances
BLOG
Estimula a los estudiantes para: leer temas tratados en el aula, buscar información, ser criticos y participativos.
WIKI
Repositorio de información donde los estudiante pueden aportar en conocimiento y experiencia donde se almacenan y puede ser mejorados por sus miembros.
DOCENTE
Extensión del aula.
APRENDIZAJE COLABORATIVO
APRENDIZAJE AUTÓNOMO
COMPETENCIAS DIGITALES
Posibilita el desarrollo de competencias digitales para generar conocimiento.
INVESTIGACIÓN
Faccilidad de acceso.
Internet
Libros digitales
bases de datos
bibliotecas Virtuales