MICROBIAL GROWTH •PROVIDED WITH THE RIGHT CONDITIONS (FOOD,CORRECT TEMPERATURE, ETC) •DEPENDING ON THE SITUATIONS (GOOD/BAD FOR HUMAN) •INCREASE IN POPULATION,CELL NUMBER,OVERALL MASS)
by Nur Qistina Balqis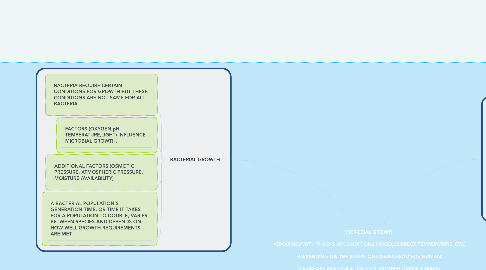 1. 4G
1.1. 1. GROWTH :AN INCREASE IN THE NUMBER OF CELLS, NOT AN INCREASES SIZE AND BACTERIAL SPECIES ONLY MAINTAINED IF POPULATION CONTINUES GROW. 2. GENERATION : GROWTH BY BINARY FISSION 3. GROWTH RATE : CELL NUMBER / TIME OR CELL MASS / TIME 4. GENERATION TIME :TIME IT TAKES FOR A CELL TO DIVIDE AND THE POPULATION TO DOUBLE; MOST ARE 1-3 HOURS.
2. PHASES OF THE BACTERIA GROWTH CURVE
2.1. 1. BACTERIA ARE PROKARYOTIC ORGANISMS THAT MOST COMMONLY REPLICATE BY THE ASEXUAL PROCESS OF BINARY FISSION. 2. THESE MICROBES REPRODUCE RAPIDLY AT AN EXPONENTIAL RATE UNDER FAVOURABLE CONDITIONS. 3. WHEN GROWN IN CULTURE, A PREDICTABLE PATTERN OF GROWTH IN A BACTERIAL POPULATION OCCURS. 4. THIS PATTERN CAN BE GRAPHICALLY REPRESENTED AS THE NUMBER OF LIVING CELLS IN PA POPULATION OVER TIME AND IS KNOWN AS A BACTERIAL GROWTH CURVE.
3. BACTERIAL GROWTH
3.1. BACTERIA REQUIRE CERTAIN CONDITIONS FOR GROWTH BUT THESE CONDITIONS ARE NOT SAME FOR ALL BACTERIA.
3.2. FACTORS (OXYGEN,pH, TEMPERATURE,LIGHT) INFLUENCE MICROBIAL GROWTH.
3.3. ADDITIONAL FACTORS (OSMOTIC PRESSURE, ATMOSPHERIC PRESSURE, MOISTURE AVAILABILITY)
3.4. A BACTERIAL POPULATION'S GENERATION TIME, OR TIME IT TAKES FOR A POPULATION TO DOUBLE, VARIES BETWEEN SPECIES AND DEPENDS ON HOW WELL GROWTH REQUIREMENTS ARE MET.
4. DIRECT METHOD
4.1. VIABLE PLATE COUNT
4.2. MEMBRANE FILTRATION
5. INDIRECT METHODS
5.1. METABOLIC ACTIVITY : USING MEASUREMENTS OF (WASTE PRODUCTION & NUTRIENT DEPLETION) TO DETERMINE POPULATION GROWTH.
5.2. DRY WEIGHT (BIOMAS) - ORGANISMS IN BROTH ARE DRIED & THEIR BIOMASS MEASURED
5.3. TURBIDITY