The Promise and the Hope of Gene Therapy Eleni Papanikolaou, Andreas Bosio
by Irem Kuyucu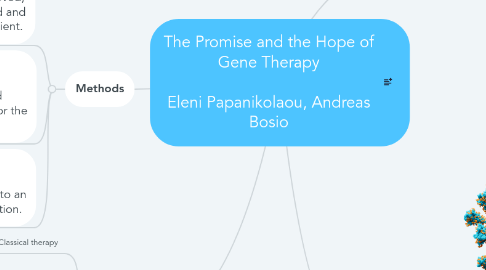 1. Methods
1.1. ex vivo Target cells are removed, genetically corrected and re-infused to the patient.
1.1.1. in vitro Same process as "ex vivo", used for treating blood diseases.
1.1.1.1. Leukemia
1.2. in vivo The vector is administered systemically in the blood or the cerebrospinal fluid.
1.2.1. Brain
1.2.2. Spinal canal
1.2.3. Liver
1.3. in situ The vector is administrated to an organ directly through injection.
1.3.1. Injection
2. Medicine
2.1. Clinical trials
2.1.1. Safety
2.1.2. Human consumption
2.2. Regulatory agencies
2.2.1. United States of America
2.2.2. European Union
2.3. Marketing authorization
2.4. Commercialization
3. Vectors
3.1. Viral
3.1.1. Gammaretroviruses
3.1.2. Lentiviruses
3.1.3. Adenoviruses
3.1.4. Adeno-associated viruses
3.2. Bacterial
4. Types
4.1. Classical therapy
4.2. Designer nucleases
4.2.1. Genome editing
4.2.1.1. Enzymes