Kalpana Chawla
by Rainbow dash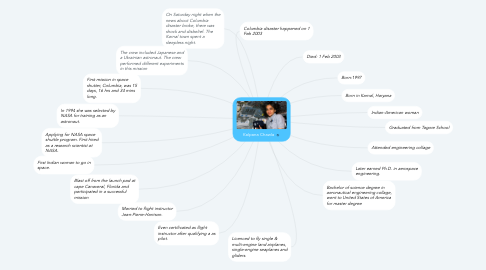 1. Born in Karnal, Haryana
2. Born:1997
3. Indian-American woman
4. First Indian woman to go in space.
5. Graduated from Tagore School
6. Attended engineering collage
7. Bachelor of science degree in aeronautical engineering collage, went to United States of America for master degree
8. Later earned Ph.D. in aerospace engineering.
9. Blast off from the launch pad at cape Canaveral, Florida and participated in a successful mission
10. Married to flight instructor Jean-Pierre-Harrison.
11. Licenced to fly single & multi-engine land airplanes, single-engine seaplanes and gliders.
12. Even certificated as flight instructor after qualifying a as pilot.
13. Applying for NASA space shuttle program. First hired as a research scientist at NASA.
14. In 1994 she was selected by NASA for training as an astronaut.
15. First mission in space shutter, Columbia, was 15 days, 16 hrs and 34 mins long.
16. The crew included Japanese and a Ukrainian astronaut. The crew performed different experiments in this mission
17. On Saturday night when the news about Columbia disaster broke, there was shock and disbelief. The Karnal town spent a sleepless night.
18. Died: 1 Feb 2003
19. Columbia disaster happened on 1 Feb 2003