TISSUE CONCEPT MAP
by Angee Dela Cruz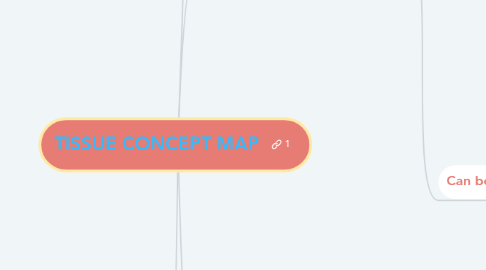 1. EPTHELIAL TISSUE
1.1. Can be classified based on the typical cell shape
1.1.1. SQUAMOUS -flattened, scale-like cells
1.1.2. CUBOIDAL- cells with similar height and width cube-like cells
1.1.3. COLUMAR - cells with longer height and shorter width column-like cells
1.2. Can be classified based on the arrangement of cells
1.2.1. SIMPLE - one cell layer
1.2.2. STRATIFIED - several layers of cells
1.2.3. Pseudostratified - falsely appear to be made up of multiple cell layers
1.2.4. Transitional - consists of several layers of cells & designed to stretch and return to a normal state without damage.
1.3. Can be classified based on its functions
1.3.1. Mucous membrane - It is found lining many body cavities and tubular organs, including the gut and respiratory passages.
1.3.2. Glandular epithelium - Glands are actually the involution of epithelial cells. Glands produce and secrete specific products..
1.3.3. Endothelium - that lines the interior of the circulatory vessels and heart.
1.3.4. Mesothelium - that lines the peritoneal, pleural, and pericardial cavities and covers viscera (internal organs).
2. CONNECTIVE TIISUE
2.1. FIBROUS
2.1.1. RETICULAR
2.1.1.1. It allows you to filter blood cells. It surrounds lymph nodes and the spleen.
2.1.2. ELASTIC
2.1.2.1. It surrounds internal organs that can expand and contact internal organs. It is found in the stomach, lungs, intestines and bladder.
2.1.3. DENSE
2.1.3.1. It consists of densely packed collagenous fibers and is very strong but lacks a good blood supply. It is part of tendons, ligaments, and aponeuroses (very flat tendon).
2.1.4. LOOSE CONNECTIVE
2.1.4.1. It forms delicate, thin membranes throughout the body that bind body parts together such as skin and underlying organs. It is found throughout the body.
2.2. SPECIALIZED
2.2.1. BLOOD
2.2.1.1. It is composed of cells and suspended in a liquid matrix called plasma. Produced in red marrow. Transports substances throughout the body. It is found everywhere in your body.
2.2.2. BONE
2.2.2.1. It's the most rigid connective tissue, with deposits of mineral salts and collagen within the matrix. Supports body and forms muscle attachments and the site for blood cell formation. It is found everywhere in your body.
2.2.3. CARTILAGE
2.2.3.1. It is rigid connective tissue that provides a supportive framework. It lacks a vascular system so it heals slowly. It is found in the ends of bones and in the ear.
2.2.4. ADIPOSE
2.2.4.1. It stores fat in the form of energy. It is found in everything including beneath the skin, around joints, padding the kidneys and other internal organs.
3. MUSCLE TISSUE
3.1. SMOOTH
3.1.1. Smooth muscle tissues surrounds hollow organs and and tubes, including blood vessels, digestive tract, uterus, and bladder. The slim cells are much smaller than skeletal muscle cells. Only have one nucleus, like cardiac muscle. Aligned roughly parallel to each other. Cells are tapered at both ends with gap junctions between adjacent cells. Its function is to digest and contract internal organs. It has involuntary movement.
3.2. SKELETAL
3.2.1. Skeletal muscle tissue connects to tendons, which attach to bones. It connects to tendons, which attach to bones. Individual fibers are thin cylinders too small to be seen with the naked eye. Arranged parallel to each other. Its function is to move the skeleton and contract. It has voluntary movement. It is everywhere connected to every bone in the body.
3.3. CARDIAC
3.3.1. Cardiac muscle tissue is only found in the heart. Individual cells are much shorter than skeletal muscle fibers, they only have one nucleus. Arranged parallel to each other. Cells are short and blunt-ended with gap junctions between ends of adjoining cells. It has involuntary movement. It is branched and blue.
4. NERVOUS TISSUE
4.1. The nervous system consists primarly of cells that are generating and transmitting electrical impulses througout the body. It sends and receives messages throughout the body. Nervous tissue contains a cell called a glial cell which does not transmit electrical impulses. Its function is to react to stimuli and reactive impulses to various numbers of neutrons. It is found in the brain and spinal cord.
4.1.1. FUNCTION: TRANSMIT IMPULSES
4.1.2. MADE UP OF TWO PARTS: THE BRAIN AND THE SPINAL CORD
4.1.2.1. COMPOSED OF NEURONS AND NEUROGLIA WHICH TRANSMITS AND RECEIVE IMPULSES
4.1.2.1.1. Dendrites
4.1.2.1.2. Axon
4.1.2.1.3. Cell body
4.1.3. MADE UP OF MANY DIFFERENT TYPES OF NERVE CELLS WHICH TRANSMIT POTENTIAL ACTION SIGNALS TO THE NEXT CELL