Progressive Discipline
by Kristi Simone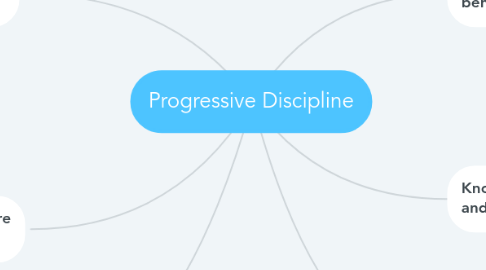 1. Understanding of student behaviour:
1.1. To meet student needs, support student success, and respond appropriately to the full range of student behaviour, system and school leaders need to acquire information about a variety of factors that influence students' achievement and behaviour
1.2. They need knowledge of the types of intellectual and emotional challenges students may face. They need to know what signs to look for in student behaviour and how to interpret what they observe. They also need knowledge of circumstances in the student's school, home, and community environments that may have a bearing on the student's behaviour
2. Knowledge of strategies, tools, and resources:
2.1. System and school leaders need to identify appropriate strategies, tools, and resources they can use to address specific challenges and meet identified needs.
3. Implementation of a progressive discipline approach:
3.1. System and school leaders need to identify a range of appropriate actions to be taken, as well as who will plan and carry out the actions, and what the time frame will be.
3.2. They also need to plan for ongoing monitoring, reflection, and adjustment, in order to identify further needed improvements and integrate them into their implementation processes.
3.3. As recommended by Freire (1985, 1987) reflection and adjustment are embedded in the framework so that lessons learned are incorporated into the implementation process on a continuing basis.
4. A Caring and Safe School Culture – What Does It Look Like?
4.1. caring and cooperative relationships; a framework of common values that includes: respect for democratic values, rights, and responsibilities; respect for cultural diversity; respect for law and order; respect for individual differences; clear and consistent behavioural expectations; appropriate and positive role modelling by staff and students.
5. The Influence of School Culture on Student Learning and Behaviour
5.1. There is evidence that recent ministry and school initiatives to support a caring and safe school culture have had a positive effect on student learning. According to findings in the Evaluation of the Ontario Ministry of Education's Student Success/ Learning to 18 Strategy (Canadian Council on Learning, 2008), "there has been an increased focus on a caring school culture at the secondary level through the Student Success/Learning to 18 Strategy". For example, the report states that in one school, the school motto, "'Take care of yourself, take care of each other, take care of this place', influenced the behaviour of staff in all of their interactions with students, whether in the classroom or in the hallways" (p. 26).
6. Assessing School Culture
6.1. Before schools take action to build and/or strengthen a caring and safe school culture, they need to get an accurate picture of their existing school culture.
6.2. Examples of assessment instruments include the following: school climate surveys: Sample surveys for students, teachers, and parents have been developed by the ministry and are available online. The surveys are designed to assess the school's effectiveness in promoting equity and ensuring the safety of teachers and students. cultural audits: Interviews and group discussions can be used to help schools determine to what extent the goals identified in the school's mission statement and safety and equity policies are achieved in practice. action research: An inquiry process in the field, involving a group of educators or all members of the school community, can be used to assess the effectiveness of specific strategies for ensuring a caring and safe school culture.