What is the impact of completing your course?
by Regina Harrison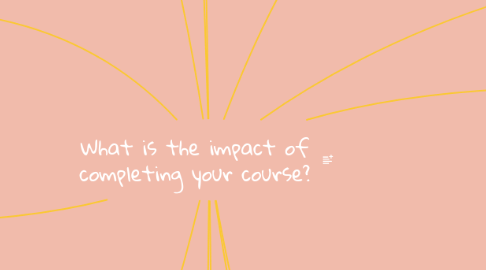 1. Academic path - CAA
1.1. Pre-requisite material for CSC230 - CAA
1.2. Most students are in programming--this content is hidden foundation for all they will do - CAA
2. In my nursing NUR 172 course, students build on the nursing foundations introduced to them in the previous semester. In addition, they learn new essential nursing skills such as safely starting and discontinuing a patients peripheral IV line, sterile trachea suctioning, and trachea care. Successful completion of this course allows the student to progress to the subsequent nursing courses and prepares them for the national nursing exam. Amy Stewart
3. Kym Polser - ACC courses What might students gain from completing an ACC course? Most students completing ACC courses do not plan to major in accoutning, rather they are required courses within the BUS curriculum. When we get "lost in the details" of ACC, I always step back and remind student why they are taking an ACC course: because ACC is the language of business. All businsses goal is to succeed financially. Anyone pursuing a career in business must understand how this financial success is measured -- through Accounting. Ultimately what will students gain? Critical business knowledge that will be used in future business related careers to help their organization monitor financial success.
4. The students will learn soft skills which will assist with workplace communication as well as how to job search. Students learn oral, written, and verbally how to communicate with with positive messaging. Monika Nathan
5. Kym Polser: ACC courses What is going to change for the student upon course completion? Completing the ACC courses will enable students to continue pursuing a BUS related degree and ultimately their educational goals. Completing an education- whether it is a technical program, associates, bachelors, masters - will open many doors of opportunity throughout students' futures. Additionally, taking ACC courses enables students to determine if they enjoy the business discipline and if it is a career field they foresee themselves working in the future. Having opportunities, and the opportunity to explore likes/dislikes, will change students lives!
6. Kym Polser - ACC courses Essential skills practice that can be transferred to life outside of education? These questions are interrelated. ACC is not a discipline of memorize and regurgitate facts. It requires students to learn a system that identifies, records, summarizes, and reports financial information. Understanding the system is only the first step because students need to have the critical thinking skills to apply the ACC system to varying business transactions. For many students this is the first course where they don't just learn how to solve and problem and then do it for an exam. They are required to use critical thinking and application skills. These critical thinking and analysis skills will benefit them not only throughout their education, but as they enter their professions and face unique circumstances and decisions. Not only professionally will these situations be faced, but in their personal lives too!!
7. Phil Root Chemistry 151. Along with generating more understanding of the process of science, the course helps students to develop critical thinking skills. Most of our general chemistry students are not chemistry majors. I still hope the course challenges them to think in different ways and to think critically about challenges they are faced with. Thinking about relationships and meaning, not just getting an answer is something I consider an important outcome for students.
8. I really like this -- "I hope they become a more understanding and accepting person." I think this is important for every member of our society, and would solve many societal issues faced today! :-) KP
8.1. Intro to Social Work: By the end, one will have an overview of the many, various settings in which Social Work takes place, within psychiatric, medical health, rehab facilities, schools, crisis intervention services etc. This course is to provide an understanding of social work functions, from clinical counseling (trauma, substance abuse, child abuse, child welfare, domestic violence), advocacy, case management and so much more. All counseling, therapy modalities are utilized by social workers, including cognitive behavioral therapy, play therapy, crisis intervention, attachment, trauma work etc. The class provides the expanse and opportunities for those interested in going forward for a BSW or MSW. Mary Ann OConnor
9. I love the identified goals and objective of this course. These are principles that we work to infiltrate throughout our nursing curriculum as well. Thank you for sharing the term "sociological imagination." Sociology is applicable in every profession. Thank you for the work you are doing. Amy Stewart
10. The impact of completing GBS233 is students will know or understand the foundations of writing, effective technique writing, internal and external communications (favorable, persuasive, and unfavorable correspondence. The students will know how to do survey and do research, how to complete a resume, how to do Power Point presentations with visual aids and how to report data both qualitative and quantitative. The learn barriers to effective and good communication. The students do an analysis on a job in the job market they are interested in. Overall, students should feel good about communication on the job and in the business industry. Monika Nathan
11. Phil Root Chemistry 151. I'm not really sure how to link these to the "right" spot on the map! So the first impact I think is important for students to gain from the course is literacy regarding scientific thinking and reasoning. Students often come to a course thinking that science is a collection of facts, things to memorize, or equations to solve. But a scientific view of the world goes much beyond that. Understanding science as a data-based, and debated, process is an important goal that hopefully fosters further lifelong learning.
12. For most of the students enrolled in CIS105 it is a gateway (or required) course to complete a program or transfer to the university. There are several skills that they can take away from the class, personal, academic and professional. By completing this course they are able to 1) advance toward meeting their academic goals, and 2) gain computer literacy and learn how to use application software such as MS Word, Excel and PowerPoint appropriately and efficiently. Many students often leave the class feeling very satisfied with the skills they have learned and frequently share how they will be able to transfer their learning to better their personal and professional life. ~Deb Zurcher
13. Course: SOC241 Race and Ethnic Relations Hopefully, they gain a lot. Upon completion of the course, I hope they gain the ability to understand the meaning of racism, oppression, white privilege, prejudice, stigma, stereotypes, discrimination, etc. I hope completing the course opens their minds and eyes to the inequalities and injustices that exist in society today. I hope they gain an awareness of and sensitivity to the experiences of people of diverse racial and ethnic backgrounds. Obviously, as this is a sociology course, I hope they gain what C. Wright Mills' termed a 'sociological imagination.' I hope that they find that the knowledge gained will be helpful to them in whatever major they pursue as sociology is applicable to just about anything. ..And, of course …. I hope they become a more understanding and accepting person.