Immunological Mechanisms Of Vaccine-Induced Protection Against
by Alfiyatur Rahmah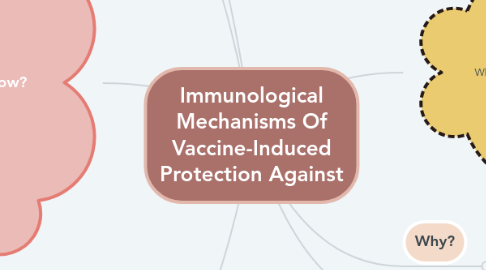 1. What?
1.1. Rapid vaccine development
1.2. Protective immunity
1.3. Future COVID-19 vaccine development
2. Why?
2.1. individuals who were infected following vaccination
3. Who
3.1. individuals who were infected following vaccination
4. When?
4.1. when considering vaccines that may block transmission.
5. Where?
5.1. deployed in some high- income countries
6. How?
6.1. into vaccine- induced immune protection and the identification of correlates of protection may be used to guide vaccine development and speed up the licensing of the next generation of vaccines
6.2. the risk of infection and/or severe disease following vaccination.
7. Abstrak
7.1. After a single dose, the adenovirus vaccines elicit polyfunctional antibodies that are capable of mediating virus neutralization and of driving other antibody- dependent effector functions, as well as potent T cell responses. These data suggest that protection may require low levels of NAbs and might involve other immune effector mechanisms including non- NAbs, T cells and innate immune mechanisms. Identifying the mechanisms of protection as well as correlates of protection is crucially important to inform further vaccine development and guide the use of licensed COVID-19 vaccines worldwide.