Shakespeare Project
by
Jill Diotte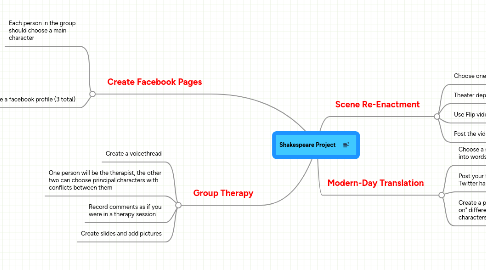 0.0
stars -
0
reviews range from
0
to
5
Shakespeare Project
Mr. Price's 10th grade English students recently read Shakespeare's A Midsummer Night's Dream. Students have been put into groups of 3 and must complete a project of their choosing. These ideas are suggestions; students can also present their own ideas to Mr. Price for approval.
Scene Re-Enactment
Choose one important scene
Theater dept has costumes
Use Flip video camera to record
Post the video on YouTube
Create Facebook Pages
Each person in the group should choose a main character
Create a facebook profile (3 total)
Pictures
Information
Applications they would use
Quizzes
Wall posts, Write on each other's walls - be creative!
Modern-Day Translation
Choose a scene and re-phrase it into words we use today
Post your translations using Twitter hashtags
Create a podcast of your translation; "put on" different voices for each of the characters
Group Therapy
Create a voicethread
One person will be the therapist, the other two can choose principal characters with conflicts between them
Record comments as if you were in a therapy session
Create slides and add pictures