TEACHING GRAMMAR
by Kiara Ramírez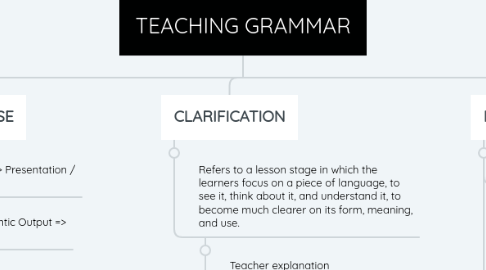 1. WHAT IS GRAMMAR?
1.1. Things that learners need to do to learn a language item
1.1.1. Be exposed to a lot of language
1.1.2. Notice specific items when they are being used
1.1.3. Understand the form, meaning and use
1.1.4. Try things out
1.1.5. Use the new language
1.1.6. Remember
2. PRESENT-PRACTISE
2.1. Input and Learning => Presentation / Clarification
2.2. Restricted and Authentic Output => Practice
2.2.1. Authentic Output=Production
2.3. Situational presentation
2.3.1. Establish the context
2.3.2. Establish the meaning of the target item
2.3.3. Introduce and practice the target language
2.3.4. Generate more sentences from the context
2.3.5. Recording in notebooks
2.3.6. Moving on to practice stages
3. CLARIFICATION
3.1. Refers to a lesson stage in which the learners focus on a piece of language, to see it, think about it, and understand it, to become much clearer on its form, meaning, and use.
3.1.1. Teacher explanation
3.1.1.1. Teachers tells the learner
3.1.2. Guided discovery
3.1.2.1. Teacher helps the learner to tell himself
3.1.3. Self-directed discovery
3.1.3.1. The learner tells himself
4. RESTRICTED OUTPUT
4.1. Drills = Repetition
4.1.1. Variations
4.1.1.1. Substitution drills
4.1.1.2. Transformation drills
4.1.1.3. True sentences
4.2. Written exercises
4.3. Elicited dialogues
4.4. Games
4.4.1. Memory test
4.4.2. Picture dictation
4.4.3. Miming an action
4.4.4. Growing stories
4.4.5. Questionnaires
4.4.6. Board games
5. OTHER WAYS TO GRAMMAR
5.1. Test-Teach-Test
5.2. Total Physical Response (TPR)
5.3. Task-Based Learning (TBL)
5.4. Text starts
5.5. 100% exposure