THE ELEMENTS OF ART
by Syafiq Daniel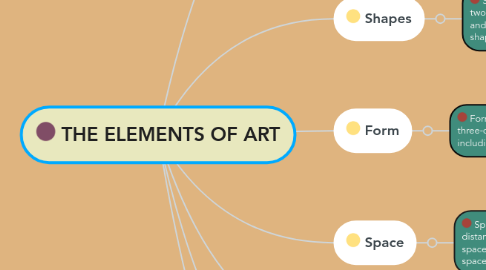 1. Lines
1.1. Lines is the path of moving points trough space. Lines also have the ability to convey emotion. This ability is called the emotive qualities of lines, which is conclude:
1.1.1. Direction
1.1.2. Rhythm
1.1.3. Angularity
1.1.3.1. Weight
1.1.4. Style
1.2. Color is an element that immediate and powerful and it's also the complex and challenges. Color contains :
1.2.1. Primary colors
1.2.2. Secondary colors
1.2.3. Tertiary colors
2. Value
2.1. Value is refer to degree of perceivable lightness of tone within an image.
2.1.1. Lightness
2.1.2. Darkness
3. Texture
3.1. Texture is used to describe the surface quality of the work. Referencing the types of lines the artist created. This elements to describe the :
3.1.1. Method
3.1.2. Function
3.1.3. Character
4. Colors
5. Space
5.1. Space is an element that refer to the distance between the are and within spaces. There were 3 categories in space which is :
5.1.1. 3D space
5.1.2. +ve / -ve space
5.1.3. White space
6. Form
6.1. Form is an element that is three-dimensional and encloses volume, including :
6.1.1. Height
6.1.2. Width
6.1.3. Depth
7. Shapes
7.1. Shape is an element of art that is two-dimensional, flat, or limited to height and width. three general categories of shape are :
7.1.1. Geometric
7.1.2. Modified
7.1.3. Organic