How Did the Nazis Gain Popular Support During the Holocaust?
by Haley Hitt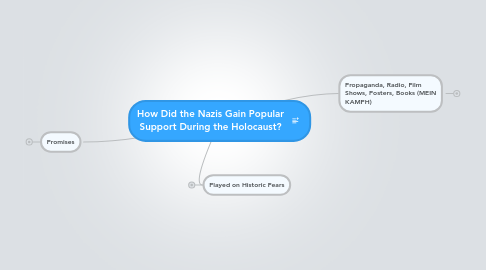 1. Propaganda, Radio, Film Shows, Posters, Books (MEIN KAMPH)
1.1. Captured the imagination of a disillusioned population and gave them fresh hope.
1.2. Implanted an image that had been created to honor a powerful party with strong leadership. A party that would not allow trivialities to prevent progress.
1.3. Hitler and his National Socialist movement offered something for everyone; especially at a time when German politicians were failing to control the economy.
1.4. Hitler's Mein Kamph set the stage for Nazi ideology as it was clearly a statement of intent with regards Germany's greatness.
2. Played on Historic Fears
2.1. Hitler was well aware of the Germans animosity towards the Treaty of Versailles. he used this for political gain, blaming the Jews, often a scapegoat in European history, for many of the woes of the twenties and promising to tear up the terms of the hated treaty.
3. Promises
3.1. Promised farmers the glory of life, the guarantee of earnings according to social status.
3.2. Soldiers were won over by Hitler's militaristic goals.
3.3. Promise to tear up the ToV