Early Intervention Teacher Training
by Caroline Kelley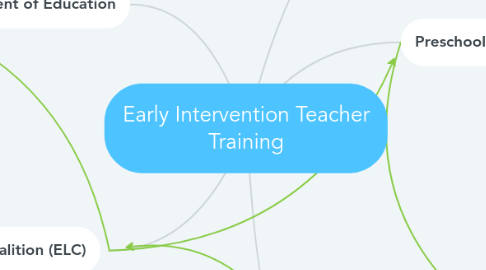 1. Preschools and Daycares
1.1. Budgets are limited for teaching salaries so centers may not be able to afford those with college degrees.
1.2. Requirement for teachers is bare minimum
1.3. Can hire inexperienced staff and send for training within 90 days
2. Families:
2.1. Children of working parents spend more time in the care of their teacher and parents may expect the teacher to notify if something is wrong developmentally.
2.2. First time parents may not know about child development
3. Department of Children and Families (DCF)
3.1. Every preschool or daycare teacher must meet the 45 hour training requirements from DCF, even if they possess a bachelor's degree.
3.2. Courses are in self-paced module format and teachers who have never worked with a child in person are considered qualified after completion of these courses.
3.3. Teaching personnel must begin child care training within 90 days of employment.
3.4. Course on Child Growth and Development is a 6 hour course.
3.5. Special Needs Appropriate Practices is a 10 hour course that is NOT required.
3.6. Course on Behavioral Observation and screenings is a 6 hour course.
4. Early Learning Coalition (ELC)
4.1. Funds government programs like Voluntary Pre-Kindergarten and School Readiness
4.2. Preschools that offer these government programs must follow guidelines and participate in yearly observations.
4.3. Students are assessed throughout the year
4.4. If students do not score well, school at risk for losing funding while teacher's training requirements are minimum
4.5. Only children required to complete Ages and Stages Assessment (Developmental Assessment) are those on School Readiness program which is income based.
5. Florida Department of Education
5.1. Receives testing scores from preschools
5.2. Rates each school yearly on "Readiness Rate" that is available publicly.