INTRAPERSONAL BARRIERS TO COMMUNICATION
by P.Mercy Btech2021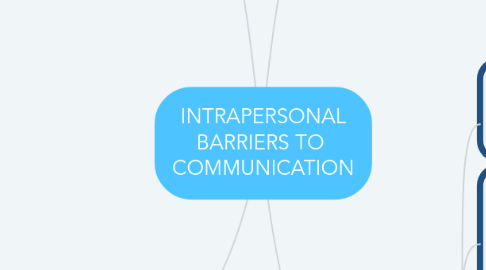 1. WHAT ARE THEY?
1.1. MEANING
1.2. They are obstacles within the self that stop us from sending and receiving information effectively
1.3. REASON
1.4. Individuals have their own perceptions because of their -
1.5. Personality
1.6. Education
1.7. Experiences
1.8. Cultural Values
2. HOW DO THEY INTERPRET IT?
2.1. PSYCHOLOGICAL BARRIERS
2.1.1. An Individual's Emotional well-being is important and barriers like fear of expression, anxiety or other mental health issues.
2.2. PHYSIOLOGICAL BARRIERS
2.2.1. Lack of concentration, inability to commit to something and sensory dysfunctions.
2.3. PERCEPTUAL BARRIERS
2.3.1. Based on a person's education, culture and value system. A person's attitude, Socio-economic backgrounds, poor management skills, personality conflicts and resistance to ideas can become a barrier too.
3. CAUSES
3.1. INCORRECT ASSUMPTIONS
3.1.1. Due to the lack of knowledge about an individual, we generally misinterpret it.
3.2. DIFFERENT PERCEPTIONS
3.2.1. Each person holds a different viewpoint on the the same situation which leads us to make different meanings about the same thing
3.3. DIFFERENT BACKGROUNDS
3.3.1. Cultural and educational backgrounds play a huge role in how an individual interprets the message. In short each person interprets it in a unique way.
3.4. BLOCKED CATEGORIES
3.4.1. A person's attitude may also lead to a barrier in communication. The lack of desire or adaptability plays an important role.
3.5. CATEGORICAL THINKING
3.5.1. To much knowledge or Over assumption about oneself can create barriers. This mainly depends on the know-it-all attitude.
4. HOW TO OVERCOME
4.1. Maintain a Broader and unbiased perspective.
4.2. Practicing Empathy whenever and wherever.
4.3. Being Sensitive enough and inspecting the other person's background before a conversation.
4.4. Emphasise the use of phrases such as "in my opinion", "evidence suggests" to add points which have not been included.
4.5. Making hasty or quick suggestions and jumping into conclusions.
4.6. Not deviating from the original topic, rather stick to the subject.
4.7. Convey your message clearly and Concisely.