MORPHOLOGİCAL PROCESS A morphological process is a means of changing a stem to adjust its meaning to fit its sytactic and communicational context.
by Ayşe inik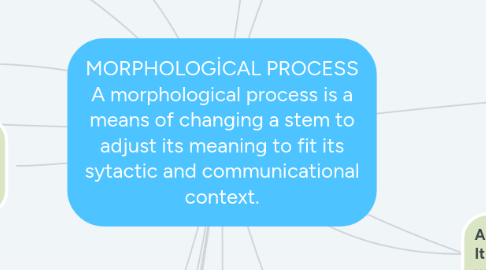 1. verb+noun suffix= improvement
2. adjective+noun suffix=weakness
3. e.g (exempli gratia)
4. -al -ize -ism -fy
4.1. Iconic
5. Root
5.1. Comes from another language
5.2. The core of the word
5.3. kick
5.4. "tang" meaning "touch"
6. AFFİXES
6.1. Divided into two categorizes
6.2. Prefixes (at the beginning of words)
6.2.1. Bi- Anti- Inter- Trans-
6.2.1.1. Transracial
6.3. Suffixes (at the end of words)
7. MEANİNG The meaning of a word is related to the meaning of its word parts.
8. Apply In+tang+-ible=intangible pre+word+suffix=English word
9. AFFİXATİON a morphological process whereby a bound morpheme, an affix, is attached to a morphological base.
9.1. Prefixation
9.2. Suffixation
10. ABBREVİATION It is the shortened form of a word or group of words.
10.1. assoc. (association)
10.2. C/O (certificate of Origin
11. ACRONYM Acronym is an abbreviation that is pronounced as a new word.
11.1. 2D-Two dimensions
11.2. Cd-Compact Disk
11.2.1. HR-Human Resources
12. BLENDİNG ... is a combination of the two parts of two words.
12.1. Smoke+fog=smog
12.2. Web+Seminar=webinar
13. CLİPPİNG
13.1. Telephone-phone
13.2. Gasoline-gas
14. COINAGE Some words are created without using any method; Xerox, Kodak, escalator etc.
15. The repetition of the root or stem of a word.
15.1. Bye-bye
15.2. flip-flop
15.3. sing-song
16. COMPOUNDING Two or more existing words are put together to form a new word.
16.1. armchair
16.2. airport
16.3. meatball
16.4. leaflet