A contractor survival guide Personal experience Updated 13 March 2013 (click in little arrows for links and click the + to expand the branch) Comments or questions: mark.outhwaite@outhentics.com Skype: markout Twitter: @mark_outhwaite
by
Mark Outhwaite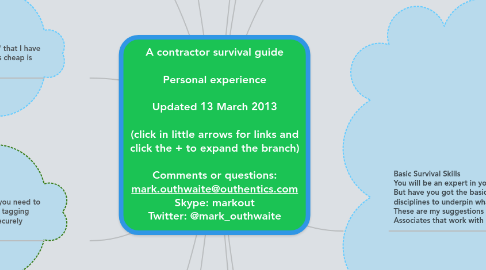 0.0
stars - reviews range from
0
to
5
Tools
HMRC - 'here be dragons' This is where you need a good accountant to explain to you the pitfalls for the unwary in both personal taxation and company taxation
Hardware
Internet on the move
Phones and stuff
Social Media Its all the rage. More unintelligible jargon used about this than anywhere else. But hey - we have got to be seen to riding the wave. And actually there is some benefit if you know what you are doing..
Do I need a website? It helps. But do not pay a fortune to get one designed. Try and find a hosting service that provides simple website building tools and have a go yourself. Do not put on content that you are not willing to update frequently.
How about a blog? Useful - but only if you keep it up to date focused and avoid ranting! Better to do fewer more focused posts than a lot of lower value ramblings. But then take the time to signpost to your Blog, attract traffic, encourage interaction - otherwise you are talking to yourself.
Email, Calendars and Tasks
Notes - replacing the Red and Black
Basic Survival Skills You will be an expert in your chosen area(s). But have you got the basic skills and disciplines to underpin what you have to offer. These are my suggestions and must-haves for Associates that work with me.
Selling
Bidding/Tendering
Basic software skills Sorry if you think this an insult to your intelligence or that it is not something you really need. But it helps - and gives a veneer of professionalism if nothing else. And at best improves productivity, wins you the business because of the professionalism and keeps you a step ahead of the competition. Nothing worse than a messy tender, presentation or report - what does it say about you as a contractor? And you will not be popular with Associates who might be having to rework your contributions. I am constantly amazed by the failure of public sector organisations to properly train staff in the exploitation of these technologies and the consequent loss of productivity opportunities.
I am a MindMapper - if you had not already guessed.There are a couple of MindMap tools that allow you to brainstorm out a project list and then turn it into a project management framework. You pays your money and takes your choice.
Useful Project Management Tools If you are going to go for a Project management tool then try and find one that integrates well with your task and calendar applications. This usually means Google. I have yet to find one that integrates really well for a team allowing good cross integration of tasks and calendars. It should be intuitive enough for your Associate colleagues to pick up and use quickly
Kit
Data A first rule for all contractors - always have your data backed up. Given the number of free Cloud services there is no excuse for losing your data. And if you are using cloud based software then check the providers back-up approach. it will always be better than yours! Use a Cloud storage service that allows access to files online and offline. Set up your file structures in the Cloud - do not use My Documents on your laptop. A hint: Use one provider for all the stuff you are not going to share with anyone else. Use another provider for documents you want to share. So I use Skydrive for all my document back-ups and to make them available across my devices. If I want to share documents, for example templates to be completed during workshops then I use Dropbox or Box
Device back-up You will need to keep your devices backed up as well. Settings, email archives etc. At home you should always have at least two Network Storage devices. One for all your laptops and PCs to back up to every night and one to back up a duplicate of the other Network Storage Device. You could replace your second network device with a Cloud back-up provider. There are many cloud back-up providers. Some come with antivirus product suites such as Norton. You do need good network speeds. My suggestion is that you do your own research as the landscape is changing so fast and the amount of storeage you can get for free is increasing. The one I have used is:
Blogs and News Letters Spend some time looking for the blogs that matter, that interest you and subscribe. Keep in touch and join in.
What do I charge? This is the most common question I get asked. And there is no easy answer. But..
What does the market look like? OK - so exactly what are you offering, what is the market, who are the competitors out there?
How formal do you want to make this?
Who do you choose to work with? Things to think about
Some questions you need to answer
In the quiet moments There will always be those slightly nerve-racking downtime moments. Between projects, waiting for responses to bids. There are always downs as well as ups. Well the good news is that you can probably do something unheard of in paid full-time employment - actually have a Personal Development Plan and achieve it.
Personal Development Plan Write your own PDP. Perhaps do it with a couple of colleagues together to spark off each other and to act as a learning set. what are all those things you wanted to find out more about or you wanted to get better at. Hold yourself to account for delivering on it.
Development Task List I keep a task list of all the things that come to mind that I want to follow up but do not have time for. I add in emails, clippings links and thoughts and inspirations. Once in a while I review them - which go into my more structured PDP (courses, training conferences etc) and which go into my diary - setting aside time to read, explore, discuss, synthesise and match to my offering. I use Evernote as my repository as I can add pretty much anything from any device.
Practical Task List I also try and keep a list of practical tasks I need to do - filing, returns web-site maintenance, blog writing, painting the house. its a simple cost equation - is it more cost effective to pay someone lese to do it or do it yourself. If you have down-time then maybe cheaper to paint a room a week than get someone to do it for you - interspersed with Personal Development Tasks