Patients on Oral Bisphosphonates
by
Nayef Alamer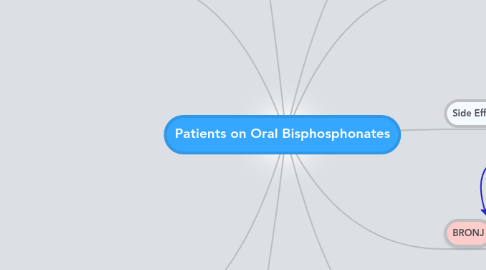 0.0
stars - reviews range from
0
to
5
Patients on Oral Bisphosphonates
What are Bisphosphonates?
drugs aim to prevent bone resorption and remodeling
Who Take the drug?
Patient with bone resorption secondary to metastatic tumors
Osteolytic lesions
Osteoporosis
Osteopenia
Side Effects
Capillary network in bone not maintained
Avascular bone necrosis
Osteochemonecrosis
Bisphosphonates Related OsteoNecrosis of the Jaw (BRONJ)
BRONJ
Exposed, devitalized bone in maxillofacial regoin
Spontaneous or secondary sergery, trauma to oral soft tissue/bone
Stages of BRONJ
At Risk Category
Stage 1
Stage 2
Stage 3
Managment of Patient requring extractions
Taking the drug more than 3 yrs
Taking the drug less than 3 yrs
All need CHX MW 1 week before 1 week after
When the patient is safe ?
Complete healing
Updated Recommendations
Periodontal disease
Oral & Maxillofacial Surgery
Endodontics
Restorative & Prosthodontics
Orthodontics
References
Bisphosphonates related osteonecrosis of the jaws (Nik desai 2010)
ISDH website
Oral Surgery ( Wiley 2010)
JADA 136 & 139