What does hiring me do for your Business ?
by ste spence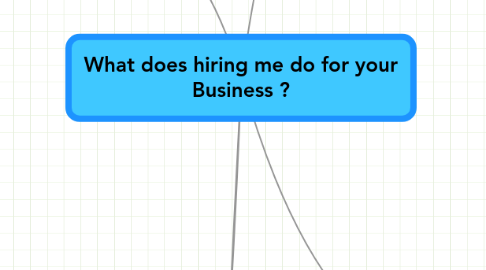 1. Customers
1.1. Offered simple routes to contact, an enjoyable experience! Customers speak to friendly, helpful and well informed representatives of the organisation
1.2. Transfers can be good ! though only if the transfer hits the perfect customer service person for the call and as long as there's no queue to get to speak to them
1.3. Create a feedback mechanism for customer information - Continually collect and interpret information in ever more creative ways to best understand customer needs and your hits and misses
2. Suppliers
2.1. 1. I am a demanding but collaborative customer. I can understand supplier issues better than most "it takes one to know one" and most importantly, experience often enables the spotting of supplier issues before they happen !
2.2. 2. Frequent and honest two-way communication is the key to an enjoying an excellent relationship
2.3. 3. I always asking for "things" for free and at the very least always ask if that's REALLY the best price.
2.4. 4. Force them to innovate, demand functionality their products don't posses. If you have the capacity/capability to do so, offer to co-develop... On the odd occasion it can be a nice little earner
3. Collegues and the greater workforce
3.1. Have always used a "sales through service" approach. I treat them all fairly, I have even been known (at times) to be open and involving proposed changes to shifts,targets etc. When I've needed them (to stay late, volunteer for training or similar) they've always been there for me.
3.2. Good communication re: plans
3.3. Involvement in research and analysis at all levels
3.4. Recruit management and analysis team members from agent pool, its cost effective and gives advisors something to aspire to
3.5. Builds project teams
4. The Board
4.1. will be well informed - the real time (should you need it real-time) "digital nervous system" will take care of that.
4.2. Enthusiasm, experience and a love for what I do, (usually) able to generate enthusiasm in others.. The more informed, involved and blah blah blah
4.3. feel safe that the organisations tacit knowedge is captured and made accessible to all.
4.4. Quick starter, not shy, get to know who does what and who signs it off.
5. My Team
5.1. Will have their potential wrung from them whether they like it or not :-)
5.2. Are given complete freedom...with frequent 'check points'
5.3. have my absolute support getting the best from staff they are responsible for
5.4. Earn their trust as quickly as possible. By trusting them