SOCIALISM IN EUROPE AND THE RUSSIAN REVOLUTION
by Meenakshi Gupta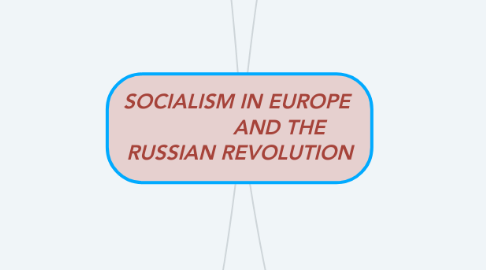 1. OCTOBER REVOLUTION:- CAUSES
1.1. Late September 1917 ( after the kornilov affair), majar cities including petrograd and moscow were in Bolshevik's hand.
1.2. Trotsky set up the military revolutionary committee (MRC) of the petrograd soviet , to actively plan seizing power.
1.3. Mid October - lenin returns from hidding in finland to take control of the Bolshevik's preparation, he believed that they should seize power by force this source agreed but no date fixed.
1.4. Kerensky out of touch with the people . He ordered the petrograd garrison to the front line against germany there was a munity and the soldiers declared themselves loyal to the Bolshevik's
1.5. 3rd November - trotsky announced the MRC had taken command of the garrison.
1.6. 3- 7th November 1917- red guard occupied government building throughout the city.most citizen of the petrograd did not even notice a kerensky fled the city.
2. FEBRUARY REVOLUTION:- CAUSES
2.1. On 22 February , a lockout took place at a factory on the right bank.
2.2. On Sunday, 25 February, the government suspended the dumam
2.3. Soldiers and striking workers gathered to form a ' soviet ' or ' council ' on the same building as the dumam met . This was the petrograd soviet.
2.4. Tsar on the advice of military command abdicated on 2 March whalen the delegation went to meet him.
2.5. Soviet leader and dumam leader formed the provisional government to run the country.
2.6. Petrograd had led the February revolution that brought down the monarchy in February 1917.
3. OCTOBER REVOLUTION:- EVENT
3.1. The October Revolution (also called the Bolshevik's revolution) overturned the interim provisional government and established the soviet union.
3.2. The October Revolution was a much more deliberate event , orchestrated by a small group of a people.
3.3. The Bolshevik's, who led this coup in only six months. They were generally viewed as an extremist group and had very little popular support when they began serious effect on April 1917.
3.4. By October , the Bolshevik's popular base was much larger; though still a minority within the country as a whole, they had built up a minority of support within petrograd and other urban centre.
4. FEBRUARY REVOLUTION:- EVENTS
4.1. In winter of 1917 the situation in petrographic was grim there was a food storage in worker quarters
4.2. Lockouts took place at a factory workers of factory joined insym patchy women also led the participated in the strikes . This can to be called the (international women day) the government improved cureful.
4.3. The government called out the calvary and police to keep and eye on them.
4.4. The police headquarter were rained sacked . A delectation went to meet the tsar the military commander advise him to abdicate.