Cardiovascular Risk Prediction and Prevention. A 4 P Approach
by Emilio García Moran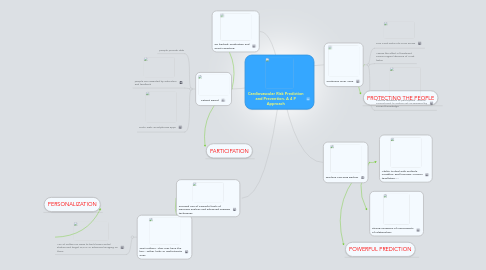 1. Strong Suspicion of NonLinearity of relationships
2. Ability to deal with multiple variables: grid learning, Voronoi tesellation.....
3. PROTECTING THE PEOPLE
4. POWERFUL PREDICTION
5. PERSONALIZATION
6. PARTICIPATION
7. Spot outliers. They may have the key....either lucky or misfortunate ones
7.1. Aim at outliers as cases to build case-control studies and target GWAS or advanced imaging on them.
8. Patient Based
8.1. people provide data
8.2. people are rewarded by education and feedback
8.3. Tools: web, smartphones apps
9. GP backed: medication and event reporting
10. Continous Over Time
10.1. Turn Point Data Into Time Series
10.2. Assess the effect of treatment versus original absence of a risk factor
10.3. Provide feedback to participants . Ethical commitment to reduce risk as assessed by current knowledge
11. Machine Learning Backup
12. Focused Use of Powerful tools of Genomic analysis and advanced imaging techniques