My New Mind Map
by Cori Lynn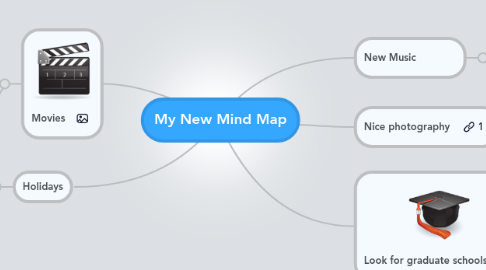 1. New Music
1.1. Jason Aldean, The Script, Pink, Taylow Swift, Carly Rae jepsen, Maroon 5
2. Nice photography
2.1. There are various websites for beginners and professionals. Browse portfolios and photos.
3. Look for graduate schools
3.1. When you receive an undergraduate degree, the next logical thing is to look for graudate schools.
4. Movies
4.1. Argo is an incredible true story. Pitch perfect is a brand new comedy. Smashed is a brand new drama.
5. Holidays
5.1. Christmas, Easter, Thanksgiving, Rememberance Day. Having a holiday means time off to spend with family and have a break off of school.