Content Marketing Process
by
Marcela Vivo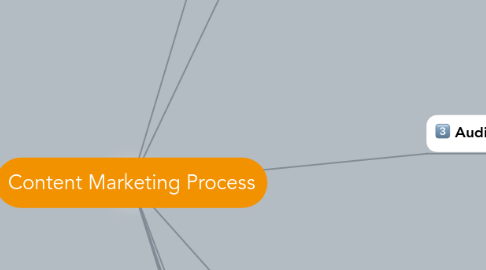 5.0
stars -
26
reviews range from
0
to
5
Content Marketing Process
Steps to Create Editorial Calendar
Determine different ways to create content for each persona at each buying stage (See content Types)
Select themes, Select a monthly theme, Based on monthly theme, select weekly topics, Based on weekly topics, create daily topics
Goal of each content piece, Join email newsletter, Sign up, Read another piece (next step in sales funnel), Call or request demo
Sample Editorial Calendar
Define Target Audience
Create Persona Template
Give them a name
Add images
Fill out questionnaire
Identify Personas
Who are they? Create a persona for each audience type, Characteristics, Persona Types, Initiator, Influencer, Decision-maker, Buyer, User, Gatekeeper, Goals & Problems, Objectives, Questions, Obstacles, Desired Change, What are the Steps Needed to Achieve Desired Change
Create Persona Content Map
Buying Stage, Status Quo, Education (Unaware of problem), Why should I care?, Question 2, Question 3, Priority, Problem recognized (What needs fixing), What should I know?, Question 2, Question 3, Research, Educations (What solutions are there), What are best practices?, Question 2, Question 3, Options, Identifying solutions, Who has the expertise?, Question 2, Question 3, Step back, Differentiation of Solutions, What if...?, Question 2, Question 3, Validation, Validation of Product/Company, Why should I believe you?, Question 2, Question 3, Choice, Deciding to buy, You'll bring the most value
Questions
Answer/Topic
Format
Audit
Existing content (all content types, see below for list)
Optimizing, Create a spreadsheet with all existing content and assign keywords and optimization elements (similar to hubspot template)
Repurposing: How can each content piece be repurposed?
Fill out Content Inventory Map
Identify Content Gaps
Capabilities & Resources
Content Development, In-house, Outsourced
Execution, Marketing?, IT team?
Quantity
SEO Audit
Indexed pages
Rankings
Links
Traffic
Engagement
Usability, Bounce Rate, Time on Site, Pages visited, Conversions
Social Media Audit
Social Accounts
Social metrics, FB likes, FB reach, Twitter followers, LinkedIn Biz page subscribers, Google Plus Circles, +1's
Types of Content
Blog Post
PDF
Video
PPT
Webinar
Podcast
Email
Website Articles
Infographics
SM status updates
Press Releases
Customer Stories
Case Studies
White Papers
Testimonials
Pre-writing Questions
Goal of the page?
Audience/Persona page is targeting?
Phase of Buying Cycle the article addresses?
What are 3 primary benefits?
What keywords to include for SEO
How long does the article need to be?, Is the question easy to answer? Short, Is the question complex? Long article, or series, Is question late stage validation? Customer stories
Follow template
Page Title, H1, Include Primary Keyword, Catchy and interesting
First Paragraph, Key concept, Include payoff
Bolded Sub-Headlines (3), H2, Summary of 1st Main Benefit, Include secondary keywords
Content Blocks (3), Back up statement in bolded subheadline above, Use Bullets, Include Secondary Keywords
Call to action, Bolded, Linked
Integrate multimedia, Photos, Videos, Slide presentations, Spreadsheets
Integrate links to additional content, Relevant articles on your site, Relevant authority articles
Engage Readers, Ask a question, Ask for their opinion
Encourage Social Sharing, Ask them to share, like, etc
Post-Writing Questions
Is content at least 500 words?
Is headline catchy and interesting?
Is content relevant to Persona?
Did you use short sentences and paragraphs with headlines?
Did you state your main point in the first 2 sentences?
Are you using industry jargon? If so, clean it up
Is content interesting and conversational?
Is the content free of grammar errors? Has it been proof-read?
Is there a clear call to action?
Did you write in a human voice, not corporate?
Create your Toolkit
Repository of top keywords, Google Keyword Tool, Analytics, Social Media Listening
Image Repository
Article template
Writing & Design sytle guide
Editing checklist
Personas
Pre-publication content checklist
Writer Database
Keep a score for each writer, Meets Deadline, Needs editing, Social Engagement for their pieces
Writer strengths/interests
Content Curation
Create list of top sites in the industry
Subscribe to RSS feeds via Google Reader
Set up alerts and set them up as RSS feeds
Schedule several posts at a time
Find interesting posts and schedule, including hashtags and commentary
Measure Success
SM Engagement
Comments
Likes
Retweets
Shares
+1's
SEO
Links Earned
Rankings
Traffic
Unique Visitors
Page Views
Usability, Bounce rate, Time on Site, Pages / visit
Sales
Conversion Ratio
Content Created
Ideas
Published
Promote Content
Social Media Sharing
Tier 1, Facebook, Twitter, LinkedIn, Google Plus, Pinterest
Tier 2, Images, Flickr, Instagram, Videos, YouTube, Vimeo, Presentations, SlideShare, ScribD
Tier 3, Bookmarking, StumbleUpon, Reddit, Diigo, Digg.com, Web 2.0, Squidoo, Wordpress, Tumblr, Hubpages
Syndication Sites, Business2Community, Niche Social Sites, BlogEngage, SocialMediaToday, Blokube.com, imnewswatch.com
Email
RSS
Guest Blogging
Commenting on Industry blogs
Seek and assist
Twitter
LinkedIn
Quora
Tools
Kapost
Content.ly
Google KW tool
ScribeContent
Define Goals
Traffic
Branding
Sales
Customer Retention
Conversions
Engagement
Leads
Keyword & Topic Research
What content to create?
SM Listening, Twitter, Google +, Google Insights
Events, Seasonal events, Promotions
Industry Research, Evergreen content, Driven by persona research, 7 Steps for Buyer Engagement, Interest: How you can solve their problems, Attention: Have them opt-in, Value: Offer value so they want to engage, Engagement: Spend time with content, Buying Committee Involvement, Conversations: Sales steps in to help, Purchase
Keyword Research, Google Keyword Tool
Analytics, Find top performing pages, Find top performing and long tail keywords, Check rankings of those pages & keywords, Competitive Analysis, Research, Site Authority, opensiteexplorer, on-page SEO, total competing pages, average bid, allintitle:, Search Volume, Document Opportunity, New page?, Phrase, URL, Current Rank, Current Volume, Volume if #1, Allintitle
Track Conversations, Set up Google Alerts, Create an RSS feed out of the alerts, Group subscriptions into folders, Make folder public, Grab the Atom feed URL, Analyze the feed with this tool