Deaf Adolescents Inner Lives and Lifeworld Development
by Hillary Janowitz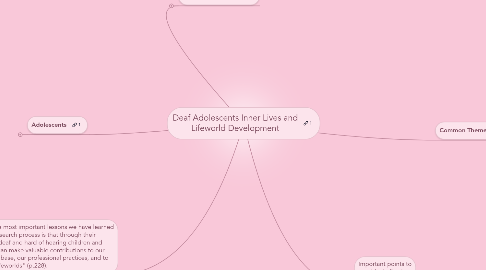 1. "One of the most important lessons we have learned from this research process is that through their narratives, deaf and hard of hearing children and teenagers can make valuable contributions to our knowledge base, our professional practices, and to their own lifeworlds" (p.228).
2. Martha A. Sheridan
2.1. She is the author of the book and is deaf herself.
2.2. She attended hearing schools growing up and reported that it did not suit her educational needs.
2.3. She attended Gallaudet University for her undergraduate education. By Thanksgiving break of her freshman year, she proclaimed to her family that "I've learned more in three months at Gallaudet than I learned in four years in a hearing high school" (p. 2)
2.4. Graduate studies in social work at the University of Maryland and Ohio State University and professional presentations and publications focused on the development, psychosocial, and existential aspects of being deaf
2.5. The Purpose of follow-up study was to re-visit the same 7 children (now adolescents) to explore experiential themes they report to exist in their worlds and how they and their families cope with the themes. A second purpose was to find out in what ways their experiences and perceptions of being deaf were similar to or different from those of their childhood (seven years ago)
2.6. In the current study started the interview by saying "if you could make a movie or write a book about deaf teenagers, what would you want to tell them?" (p.35) The adolescents then expressed their feelings about school, family, communication, the future, and so forth in their individual interview sessions. Common themes emerged as a result of the study.
3. Adolescents
3.1. Mary "The older I get, the more I want to socialize with peers who are deaf like me and can talk, and talk, and talk with me. I like that." (p. 36)
3.1.1. 14 years old
3.1.2. She is profoundly deaf since birth, immediate family members are deaf and native ASL users.
3.1.3. Elementary school years: attended a total communication day school and was mainstreamed in a hearing school with an interpreter for some classes.
3.1.4. At the time of the interview, she was about to split her school days between a hearing high school and a residential school for the deaf.
3.2. Danny "I'd like to be the first deaf person in professional basketball." (p. 57)
3.2.1. 16 years old
3.2.2. He is profoundly deaf since birth-genetic cause, all other family members are hearing.
3.2.3. He attends a residential school that espouses an ASL-English bilingual philosophy.
3.2.4. He communicates in ASL, his mother and father use ASL, his step-siblings sign "some" and finger spell.
3.3. Angie "So I need to start getting ready." (p.72)
3.3.1. 17 years old
3.3.2. She is profoundly deaf perhaps due to an illness in infancy.
3.3.3. She has always been mainstreamed with other deaf children in a public school with a total communication philosophy.
3.3.4. She communicates in ASL, her parents use Signed English.
3.4. Joe "I've been through a lot of things... I work hard." (p. 92)
3.4.1. 16 years old
3.4.2. He considered himself hard-of-hearing in part one of the study. He became deaf at age of 5 months (unknown cause).
3.4.3. He attends a public high school where he is mainstreamed with other deaf adolescents and is African American.
3.4.4. He communicates primary through speech; he and his mother signs.
3.5. Alex "I'm proud of myself, I'm proud of being deaf... My goal is to live far away with trees all around and a pond. I want a cabin, a big one that I'll make myself!" (p.114)
3.5.1. 14 years old
3.5.2. He was born profoundly deaf (unknown reasons), both parents are hearing, one sibling is hard-of-hearing, one sibling is hearing.
3.5.3. Family members use ASL.
3.5.4. He feels that a residential program best suits his educational needs.
3.6. Pat "Yeah I could be president! I'd like to. Yeah, I don't know, maybe I could be a deaf president, I could, but they wouldn't understand me because they don't know sign language." (p.131)
3.6.1. 17 years old
3.6.2. He was born profoundly deaf, parents and siblings are hearing.
3.6.3. He has Mild Tourette Syndrome and ADHD.
3.6.4. Both parents demonstrate ability to communicate with him in sign.
3.6.5. He attends a residential school for the deaf with a bilingual ASL-English communication philosophy.
3.7. Lisa "Hearing people should know hearing impaired people can talk and try not to by shy to talk to the deaf." (p.152)
3.7.1. 17 years old
3.7.2. She was born profoundly deaf.
3.7.3. She was mainstreamed in a total communication program during the first part of the study, soon afterwards she transferred to an oral-only residential program, now she is in the process of being transferred to a hearing public high school where she will be mainstreamed.
3.7.4. Her family members are all hearing, she communicates orally, occasionally will use gestures and supplemental signs to facilitate communication.
4. Common Themes
4.1. Pathways
4.1.1. As a whole, the adolescents, participate in a variety clubs and extracurricular school activities; are determined to force themselves to deal with difficult situations; show goal-directed coping strategies; and teach others about Deaf cultures, the realities of being deaf, and how to succeed in their interpersonal relationships.
4.1.1.1. Joe deals with bullying by hearing peers by becoming a peer counselor and being a role model.
4.1.1.2. Angie makes concerted efforts to access information and learn as much as she can to prepare for the future. She wants to teach hearing people about Deaf culture.
4.1.1.3. Alex expressed his plans to expand his social network when confronted with bullying at school.
4.1.1.4. Mary would share to others what it is like being a deaf teenager who goes to a mainstream school.
4.1.2. Boredom was a common theme when they were cut off from communication, especially with hearing peers
4.1.2.1. Mary typically only hangs out with family members and friends who are deaf.
4.1.2.2. Danny mentioned that when hearing people would go talk, he would be aside and play his Game Boy by himself.
4.1.2.3. Pat was the most affected by boredom because during the summer months he was separated from his peers at the residential school. Pat lived in a rural residence when school wasn't in session. At this residence there wasn't technology based communication techniques that he could utilize (i.e., e-mail, TTY, instant messaging). As a result, Pat shared that he would watch TV or just sign to himself in the mirror.
4.2. Strengths
4.2.1. They are Involved in a variety of extracurricular school activities.
4.2.2. They are teaching others in their lives to sign, about Deaf culture, and the realities and meanings of being deaf.
4.2.3. The adolescents take it upon themselves to teach hearing others how to best bridge their cultural and communication differences.
4.2.4. They are more aware of a preferred social network, focus their relationships with others who are like them in the communication and culture preferences "deaf like me" (p. 178). Ease of communication was very important to the adolescence as it allowed for greater depth in their relationships.
4.3. Images
4.3.1. Attachment and domesticated others
4.3.1.1. As a whole, the expressed a stronger, deeper, and more direct sense of attachment in self-same relationships (i.e., linguistically matched or communicative accessible).
4.3.1.2. Ease and depth of communication became more important in adolescence years, they reported feeling more comfortable with deaf peers they identify with or see as similar in communication and language.
4.3.1.2.1. Mary mentioned that when she was younger she didn't mind whether her friends were hearing because they just played. As she got older, she wanted peers more like herself (i.e., deaf) so communicating would be easier.
4.3.1.3. Phase 1: "It's not whether your deaf or hearing, but how you communicate." Phase 2: "I am more comfortable when you are deaf like me and we experience ease and depth in communication." (p.179)
4.3.2. Alienation and disparate others
4.3.2.1. Great amount of emphasis was placed on boredom and disconnect they experiences in extended and blended family communication.
4.3.2.1.1. Alex stated that when his mom invites his extended family, he is the only deaf person. He gets bored and spaces out.
4.3.2.1.2. Danny mentioned that he is bored when hearing people are talking and he doesn't know what they are talking about.
4.3.2.1.3. Pat shared that there is no interpreter provided in his hearing church, so he does not understand what is being said and gets bored.
4.3.2.2. At this point in their lives, the adolescents were expected to find barriers during communication with hearing family members and peers and prepared ways to deal with them
4.3.2.3. Majority of the adolescents express that hearing people consider them (i.e., deaf people) to be inferior to hearing people. Joe and Mary suggested that hearing people need to get to know them for who they really are, not just as people who are deaf.
4.3.2.4. The deaf community is diverse and sometimes there is conflict within the deaf community. For example, Mary said "Sometimes [deaf peers] will insult me, "what do you go to a hearing school for?" (p. 184)
4.3.3. Infinity
4.3.3.1. Majority of the participants expressed positive perceptions of their futures; however, some of the males were aware of the social barriers a deaf person would face in some areas (i.e., politics, professional basketball, police and fire departments, and the military).
4.3.3.1.1. Pat's first career choice remained to be either police, fire, or military. The author suggested that this could be due to the fact that these career choices do not require a college degree
4.3.3.2. All but Pat envisioned college as a future possibility.
4.3.3.2.1. Alex considers getting his drivers license, going to college and possibly going to RIT for graduate school to study electrical engineering
4.3.3.2.2. Danny's ultimate goal is to be a professional basketball player, but will go to college to study computers
4.3.3.2.3. Lisa wants to attend a hearing university and become a veterinarian
4.3.3.2.4. Mary is considering majoring in English or Social Work at Gallaudet University and wants to become a college professor
4.3.3.2.5. Angie is planning out how to be an independent adult (i.e. hearing her baby cry, handling finances, driving, interpreters...) Furthermore, she wants to travel, write a book and poetry, or possibly become a reporter
4.3.3.2.6. Joe wants to attend a division I school to play football, study business, and become a business executive.
4.3.3.2.7. Pat did not see college as a possibility in his future, and was discouraged by the lack of opportunities in the service, police, and fire department for deaf adults. He envisioned himself as being a custodian or working in a fast-food restaurant.
4.3.3.3. All see themselves as continuing to be deaf throughout their lives, Joe changed his view of the possibility of hearing being restored from Phase I of the study.
4.3.4. Covert and overt identity
4.3.4.1. The adolescents have a multicultural existence, deaf people are not restricted to a constant either-or dichotomy in their identities.
4.3.4.1.1. Joe is African American. Over the course of his life thus far, he has encountered communication barriers and racism at his predominately white hearing school. Although he identifies with his deaf peers, he is still the minority as an African American teenager. His multicultural experience includes interaction with African Americans European Americans, and hearing and deaf cultures. As of now, Joe has yet encountered an African American deaf culture. If he does, that would be his fifth cultural influence on his identity.
4.3.4.1.2. Mary, on the other hand, is European American female who comes from multiple generations of deaf relatives. As a child, she described an easygoing relationship with her hearing classmates and relatives. As an adolescents, she acknowledged a much stronger identification with the Deaf Community and Deaf Culture.
4.3.4.2. The author shared pictures of individuals and groups in photographs and asked the adolescents to create stories about the characters in the photo.
4.3.4.2.1. Based on certain indicators the adolescents stated whether the people in the photograph were deaf or hearing.
4.3.5. Images of communication
4.3.5.1. In childhood, it was about accessible communication. In adolescence, it became more important that other teens communicate like them; with a matching linguistic mode.
4.3.5.1.1. Alex: "It's a lot of fun, because they can sign like me. I fit in better. It's a better match for me because I have friends. I have so many friends." (p.193)
4.3.5.2. All but one adolescent (Lisa) communicated in sign language with their parents; however, all of them expressed general communication discomfort and disconnect with extended family members, siblings, and blended family situations
4.3.5.2.1. Angie: It hurts my self-esteem a little bit if the family is talking and I don't understand what they say at all." (p. 194)
4.3.5.2.2. Joe: He is closest with his sibling who has some sign language skills, and another sibling is "stubborn" and has low expectations of him.
4.3.5.3. At this point, the adolescents confront communication barriers, and can anticipate having to deal with a lack of communication access in employment, medical care, ect.
4.3.5.3.1. Alex shared examples of unfair treatment he receives at restaurants.
4.3.5.3.2. Pat expresses the fact that there are some jobs are not accessible to deaf people.
4.3.5.3.3. Danny mentioned potential barriers in future employment
4.3.5.3.4. Angie expressed barriers in movie theaters, and need for interpreters in medical care, finances, and so forth.
4.3.5.3.5. Mary shared an experience of the lack of interpreting services for a theatrical event.
4.4. Generic Issues of Adolescence
4.4.1. Parent-Teen Relations and Emancipation
4.4.1.1. This group of adolescents valued their supportive and loving relationship with their parents; however, they ALL expressed boredom and disconnect in extended family situations.
4.4.2. Mood Changes and Transitional Accommodations
4.4.2.1. As a whole, the adolescents experienced may transitions (i.e., divorce, remarriage, and addition of new family members, new schools). With these changes, the adolescents had to start the advocacy process all over again.
4.4.3. Cliques, Crowds, and Multiple Inaccessible Environments
4.4.3.1. The adolescents, whose primary means of communication was sign, expressed that they experience a closer relationship with family members who sign and a disconnect to families who don't sign.
4.4.3.2. Like adolescents in general, these seven were content in situations where they experienced a sense of belonging, attachment with their parents, and EASE and DEPTH in COMMUNICATION.
4.4.4. Critical Thinking and Autonomy
4.4.4.1. All of the adolescents were aware of the struggles they experience in communication in multiple environments that are not accessible to them. These topics were brought up during the interview process as the adolescents discussed their relationships with their family and friends, at school, and in the community.
5. Important points to consider/reflection of the interviews
5.1. The adolescents are well aware of their surroundings. Furthermore, they go through similar transition periods as normal-hearing adolescents.
5.2. Although majority of them have a positive outlook on life, there are still negative perceptions expressed throughout the interview (i.e., about people who are deaf that hold them back from their dreams).
5.2.1. This is especially true for Pat. His standards of what adults who are deaf can and can't achieve are very low. I find this discouraging and worry about him that due to this perception, he will limit himself in the future.
5.3. It was really interesting to see the adolescents views mature from when they were interviewed seven years ago. Furthermore, these adolescents demonstrate the fact that communication with family members and peers is one of the most important aspects of life to them.
5.4. These interviews portray the fact that society has come a long way of accepting those who are deaf and hard-of-hearing, but sill have much more to build on for them to not consider themselves as outsiders in a hearing dominated world.