Internet Tools and their Applicaitions for Teacher Librarians
by
Fanny Tang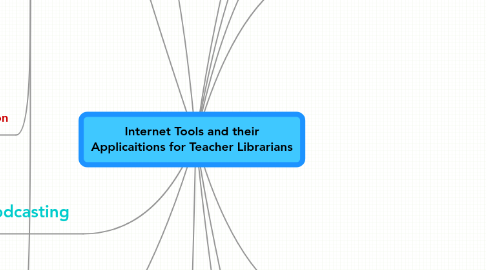 0.0
stars -
0
reviews range from
0
to
5
Internet Tools and their Applicaitions for Teacher Librarians
Blog
Definition
a web-based publication
Importance
the number of blogger and blog use levels around the world is elevating.
Blog server & tools
blogs for all, Blogger, Technorati, Blogpulse
blogs for students, International student.com, Pace student blogs, studential.com, Edublogs
blogs for teachers, Teacher Vision Blog, Teacher Lingo Blog, Cool Cat Teacher, Edublogs
blog tools, Picasa (photo album), Google Doc (create word,ppt etc), Qumana (blog editor), Hipcast (create audio, viedo and photo)
function
students and blog, Publish own writing, Share group work, Peer review, Manage own digital portfolio, Collaborate on project with each other
teachers and blog, Share resources with students, Monitor activities of individual students and groups, Communicate with students and parents, Publish and share student work to whole class
schools and blog, Publish school news, Achieve minutes of meetings, Communicate with parents, Share best practise, lesson plans etc
What's Web 2.0??Introduction
It's a NEW platform
check it out on YouTube
We could control of INFORMATION!!
Collective activities
Internet Community
Explain it to you~
Develop NEW softwares
Blogs
Sharing
Wikis
Podcasting
Understand??
YES!! Let's DO it!!, mAke A grOUP BloG, ""SOUL"", What do you think about Web 2.0?? Write it on the blog, look@RISAL
NO..., check it again, please
Social bookmarking
management and sharing of bookmarks
tagging
eg. RISAL, LibraryThing, blog
clouds
Social repositories
sharing of digital content, private and public
Slideshare
YouTube
digging
New node
Implications for educational institutions
sharing of resources in our institutions
New node
beyond standard meta-data
http://risal.cite.hku.hk/?view=recent
Why we use Web2.0 in our teaching??
students will know more of IT aligned with Web 2.0
good connection for sharing, collabrating, podcasting teaching materials for students
students need to face the Web 2.0 around every corner of the world
students are easy to access different kinds of materials on the internet
new media for build up relationship between teachers and students while students know and use more Web2.0
Really Simple Syndrication(RSS)
Defination
Family of web feed used to publish update works
Allow readers to subscribe timely updates from favourite website
Allow the readers to retieve the content
The software can read
aggregator, bloglines, newsgator, protopage
RSS reader
Feed reader
Content
news
blog
text and metadata
other website you like
How to feed?
Search the website you like and click the icon to initiate the subscription process
New node
Podcasting
Defination
series of digital media files( mostly video or audio)
How to use?
Download simply via web syndication
Where can store?
Download files can store locally on personal computer or other devices
Which devices can use?
Any portable media player
Voice Thread
What is Voice Thread?
a new way to talk about and share your images, documents or videos
How to use?
group conversations are collected and shared in one place from anywhere in the world and all with no software to install
Function
connect people around the world
could be embedded to show and receive comments on other websites, such as blog
Share your images, documents and video
comment on others images, documents and video by using voice or text
Useful Link
Web 2.0 Tools and Applications Index
go2web20