What virtues do we need to promote for the Year of Faith? What saint exemplifies these virtues?
by Andrea McKichan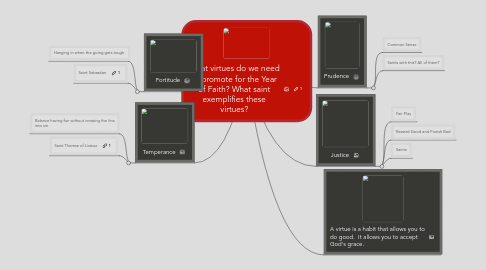 1. Prudence
1.1. Common Sense
1.2. Saints with this? All of them?
2. Justice
2.1. Fair Play
2.2. Reward Good and Punish Bad
2.3. Saints
3. A virtue is a habit that allows you to do good. It allows you to accept God's grace.
4. Temperance
4.1. Balance having fun without crossing the line into sin.
4.2. Saint Therese of Lisieux
5. Fortitude
5.1. Hanging in when the going gets tough.
5.2. Saint Sebastian