To-Do List
by Alina Tudorache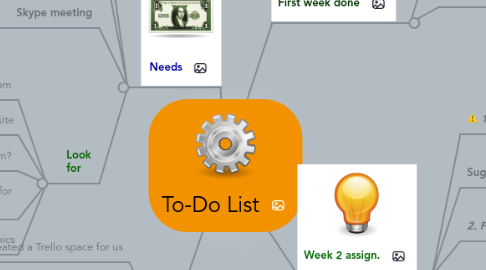 1. First week done
1.1. Team formed, members selected
1.2. Tasks
1.2.1. Company description
1.2.2. Create a MKT page for our startup
1.2.3. Coimpleted Business Model Canvas
2. Needs
2.1. For ass. 1 look for people in this class, specialized in PR - we need visual identity (logo, templates, etc) and invite them to our group
2.2. Describe urself
2.2.1. on Trello - Silviu create topic
2.2.2. everyone fill it in so we can choose the board
2.3. Skype meeting
2.3.1. Someone gather Skype id for all
2.3.2. Tell us on FB when are you available
2.3.3. we NEED this meeting
2.4. Look for
2.4.1. Free domain name at .com
2.4.2. A person to make a movie of 30 sec for our site
2.4.3. hosting and domain where from?
2.4.4. Which one of you will work collaboratively for our multimarket e-commerce platform?
2.4.5. Copyrights, fair collaboration and ethics
3. Week 2 assign.
3.1. 1. Recruit classmates 2 ur board
3.2. Suggestions
3.2.1. a.Choose within our members in this group.
3.2.2. b.Look for others for PR, MKT, IT
3.3. 2. Find a team on which to be a board member
3.4. Sugg.
3.4.1. a.complete this for our team only, so you can be a board member for us
3.4.2. b.being just in our board will make you focus more
4. Tools 4 internal communication
4.1. Silviu created a Trello space for us
4.2. we will use this collaborative space
4.3. NEED - A person to gather our Skype id asap
4.4. Meeting on Skype this week. Hour? Day?