New Media?
by
Ashley Tan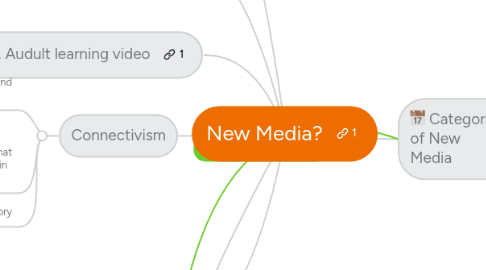 5.0
stars -
1
reviews range from
0
to
5
1. Teaching Children
Connectivism
central metaphor of a network with nodes and connections
Learning and knowledge rests in diversity of opinions
Learning is a process of connecting specialized nodes or information sources
theory of learning based on the premise that knowledge exists in the world rather than in the head of an individual
similiar to bandura social learning theory
Learn through contacts
Games
Social Media
FaceBook
LinkedIn
Flickr
my space
Tumblr
Wechat
Reddit
Twitter
Friendster
Blogs
Foursquare
WeiBo
Instagram
Online Chats
Skype
whatsapp
forum
Line
MSN
Viber
Collaborative
mindmwister
google.doc
wiki
On Line content
eBooks
YouTube
Podcasts
Social Bookmarking
Delicious
Instructional strategies, "-ogy"
Pedagogy
2. Science & Art of Teaching
1. Adult Learning
2. Learner has Experience
Peeragogy
1. Peer to Peer Learning
1. http://www.irrodl.org/index.php/irrodl/article/view/1076
2. Highly autonomous learners
3. Self-determined learning
4. learning how to learn
5. double loop learning
What makes N/M new?
Currency
Actual age since inception?
Content
Various media formats?
Accessibility: Populous outreach
Instantaneous-ness of "Live" Feeds/ updates: Dynamic Contents
Ownership of content by user
Ready Access
Flattens hierarchical layering
Media can be accessed by anyone, regardless of platform
Relative to context: "new-ness"
With "new" media, new strategies are needed
N/M Leverages on?
Learners' prior knowledge and experience
Drives type of content
Shift from didactic strategies - to what?