GOOGLE ACADEMICO
by
Joseluis De Jesus Martinez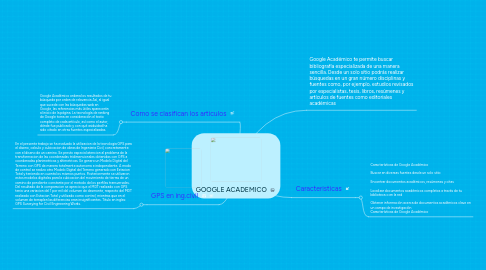 0.0
stars -
0
reviews range from
0
to
5
Google Académico te permite buscar bibliografía especializada de una manera sencilla. Desde un solo sitio podrás realizar búsquedas en un gran número disciplinas y fuentes como, por ejemplo, estudios revisados por especialistas, tesis, libros, resúmenes y artículos de fuentes como editoriales académicas
Como se clasifican los articulos
patents strong brand names good reputation among customers cost advantages from proprietary know-how exclusive access to high grade natural resources favorable access to distribution networks  
Google Académico ordena los resultados de tu búsqueda por orden de relevancia Así, al igual que sucede con las búsquedas web en Google, las referencias más útiles aparecerán al inicio de la página. La tecnología de ranking de Google toma en consideración el texto completo de cada artículo, así como el autor, dónde fue publicado y con qué asiduidad ha sido citado en otras fuentes especializadas.
Caracteristicas
shifts in consumer tastes away from the firm's products emergence of substitute products new regulations increased trade barriers
Características de Google Académico Buscar en diversas fuentes desde un solo sitio Encontrar documentos académicos, resúmenes y citas Localizar documentos académicos completos a través de tu biblioteca o en la red Obtener información acerca de documentos académicos clave en un campo de investigación Características de Google Académico
GPS en ing.civil
an unfulfilled customer need arrival of new technologies loosening of regulations removal of international trade barriers
En el presente trabajo se ha evaluado la utilizacion de la tecnologia GPS para el diseno, calculo y cubicacion de obras de Ingenieria Civil, concretamente con el diseno de un camino. Se presto especial atencion al problema de la transformacion de las coordenadas tridimensionales obtenidas con GPS a coordenadas planimetricas y altimetricas. Se genero un Modelo Digital del Terreno con GPS de manera totalmente autonoma e independiente. A modo de control se realizo otro Modelo Digital del Terreno generado con Estacion Total y teniendo en cuenta los mismos puntos. Posteriormente se utilizaron estos modelos digitales para la cubicacion del movimiento de tierras de un camino de pendiente constante por el metodo de los perfiles transversales. Del resultado de la comparacion se aprecio que el MDT realizado con GPS tenia una variacion del 1 por mil del volumen de desmonte, respecto del MDT realizado con Estacion Total y utilizado como control, mientras que en el volumen de terraplen las diferencias eran insignificantes. Titulo en ingles: GPS Surveying for Civil Engineering Works.