Make -up guide
by Student-Ran LevinKas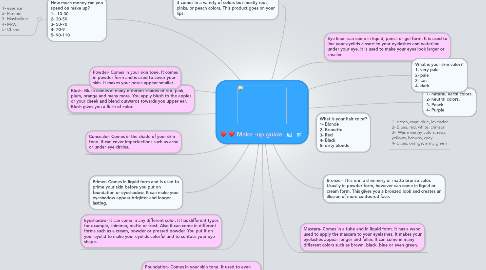 1. 1- natural, earth colors. 2- neutral colors. 3- Peach. 4- Purple
2. Eye liner- can come in liquid, pencil or gel form. It is used to line your eyelids closest to your eyelashes and waterline under your eye. It is used to make your eyes look larger or smaller.
3. Mascara- Comes in a tube and in liquid form. It has a wand used to apply the mascara to your eyelashes. It makes your eyelashes appear longer and fuller. It can come in many different colors such as brown, black, blue or even green.
4. Eyeshadow- It can come in any different color. It has different types for example, shimmer, matte or frost. Also it can come in different forms such as a cream, powder or pressed powder. You put it on your eyelid to make your eyelids colorful and to contour your eye shape.
5. Foundation- Comes in your skin tone. It used to even your complexion. It come in liquid, powder, and mousse. You apply it with a brush or your fingers all over your face.
6. Blush- Blush comes in many different shades of red, pink, plum, orange and many more. You apply blush to the apples or your cheek and blend outwards towards you upper ear. Blush gives you a flush of color.
7. Concealer- Comes in the shade of your skin tone. It can cover imperfections such as acne or under eye circles.
8. Primer- Comes in liquid form and is used to prime your skin before you put on foundation or eyeshadow. It can make your eyeshadow appear brighter and longer lasting.
9. Powder- Comes in your skin tone. It comes in powder form and is used to cover your skin. It makes your pores appear smaller.
10. Lipgloss- It comes in a glossy shine or in a matte. it comes in a variety of colors but mostly reds, pinks, or peach colors. This product goes on your lips.
11. Bronzer- This is in a shimmery or matte bronze color. Usually in powder form, however can come in liquid or cream form. This gives you a bronzed look and creates an illusion of more contoured face.
12. What is your skin color? 1- very pale 2- pale 3- tan 4- dark
13. How much money can you spend on make up? 1- 10-30 2- 30-50 3- 50-70 4- 70-9 5- 90-110
13.1. 1- essence 2- Rimmel 3- Maybelline 4- MAC 5- Chanel
14. What is your hair color? 1- Blonde 2- Brunette 3- Red 4- Black 5- dirty blonde
14.1. 1- green, royal blue, lavender 2- Blues, red, white, crimson 3- Warm earthy colors, reds, yellows, browns, grey 4- blues, orange, army green