Improving a child's social skills and relationships with peers ~How we can help
by Erica Noel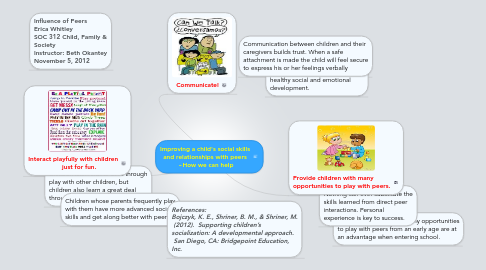 1. Attachment and security is key to healthy social and emotional development.
2. Communication between children and their caregivers builds trust. When a safe attachment is made the child will feel secure to express his or her feelings verbally
3. Children who have had many opportunities to play with peers from an early age are at an advantage when entering school.
4. Nothing can ever substitute the skills learned from direct peer interactions. Personal experience is key to success.
5. Children learn crucial skills through play with other children, but children also learn a great deal through play with their parents
6. Interact playfully with children just for fun.
7. Communicate!
8. Provide children with many opportunities to play with peers.
9. Influence of Peers Erica Whitley SOC 312 Child, Family & Society Instructor: Beth Okantey November 5, 2012
10. Children whose parents frequently play with them have more advanced social skills and get along better with peers.
11. References: Bojczyk, K. E., Shriner, B. M., & Shriner, M. (2012). Supporting children's socialization: A developmental approach. San Diego, CA: Bridgepoint Education, Inc.